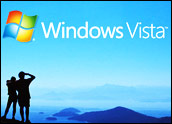 European Union regulators said they have warned Microsoft that Vista, the first new version of Windows in six years due out later this year, could face scrutiny on anti-trust grounds if third-party products cannot be made to work with the new platform.
There is no formal investigation yet under way into Vista. A spokesperson for the European Commission (EC) said Microsoft was informed in writing of the concerns and is expected to respond.
"We are concerned about the possibility that the next Vista operating system will include various elements which are currently available separately from Microsoft or other companies," EC spokesperson Jonathan Todd said during a news briefing in Brussels.
In other words, the commission is concerned about Microsoft bundling various products and services together in a way that hurts competitors. That same practice brought the anti-trust ruling against Microsoft in Europe, a finding that resulted in a record-setting US$600 million fine and requirements that Microsoft produce a Windows version for sale in Europe that does not include the Windows Media Player and that the company share its source code with third-party server makers so they can produce compatible products.
Microsoft did not immediately respond to requests for comment but issued a statement saying that it had worked closely with third parties to ensure the platform was compatible with other products.
"We have worked hard to include partners and competitors in our planning so they can build products and services that work with Windows Vista," the statement said.
Deadlines Looming
The Commission is said to be especially focused on Microsoft's plans to build Internet search functionality into the new platform, as well as its digital rights management program and software that will let users create a fixed document format comparable to the PDF format. Microsoft's pledge to build in advanced search features is also a concern, Todd said.
Such built-in features could theoretically make it harder for third parties to offer similar products or services — a Web search tool, for instance, may have a harder time generating traffic from Vista users whose programs have built-in search, for instance.
Todd was questioned about Vista after a member of the Commission told a newspaper earlier in the week that it would be "rather stupid to design something that is not" in compliance with current competition rules.
The warning shot comes as Microsoft faces a deadline later this week to bring itself into compliance with the earlier anti-trust ruling penalties before it faces fines of up to $2 million per day.
Microsoft is seen having one last chance to avoid those fines, with various parties gathering in Brussels this week to discuss the issue of compliance. Last year, the EC appointed a third-party mediator to help determine whether the software giant was complying with the requirement that it open its source code to competitors. That review found the licensing scheme Microsoft had set up was reducing participation by the European server makers whom it was meant to aid.
Opening a New Chapter
Microsoft will likely work hard to show the EU it is striving to ensure compliance on the existing penalties and to avoid any new issues with Vista, Enderle Group Principal Analyst Rob Enderle told the E-Commerce Times.
"Microsoft recognizes that it can't fight all these battles and still be the innovative company that got it into the position of market dominance in the first place," he said. The company will also be eager to be able to launch Vista worldwide all at once, without regional delays. "It wants a clear runway to launch Vista from."
Still, Microsoft has shown it won't back down in all instances, recently filing a formal complaint with the EU, claiming anti-trust regulators colluded with Microsoft competitors, meeting with them secretly to discuss the case against the software giant.
The company has also taken a firm stance in dealing with anti-trust issues in Korea, where this week it has asked the Seoul High Court to review the Korea Fair Trade Commission case against it, a ruling that calls for Microsoft to un-bundle both the Media Player and MSN Messenger from Windows.