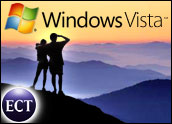 Microsoft has again postponed the highly anticipated release of the consumer version of Windows Vista, dealing a blow to PC makers who had hoped to ride a wave of upgrades to stronger sales and causing a sell-off of Microsoft stock.
The software giant now says Windows Vista should be widely available in January of 2007 rather than during the fourth quarter of this year. It is at least the third time that Microsoft has rearranged the launch schedule for Vista, which was formerly known as Longhorn during its long gestation period in development at Microsoft's Redmond, Wash. headquarters.
Beta's Coming Soon
Microsoft had originally hoped to have Vista available late in 2005, a date then pushed to fall of 2006. Meanwhile, several analysts have said that demonstrations of Vista have suggested that Microsoft has been setting aside some features it originally hoped to include in the release, the first major overhaul of the Windows platform in six years.
A corporate version of Vista is still expected to roll out in November of this year. Microsoft cited unspecified internal deadlines for the latest delay and said that some 2 million beta installations of Vista should be on consumer PCs by the end of the second quarter.
"Product quality and a great out-of-box experience have been two of our key drivers for Windows Vista, and we are on track to deliver on both," said Jim Allchin, co-president for the Platforms & Services Division. "But the industry requires greater lead time to deliver Windows Vista on new PCs during the holiday [season]. We must optimize for the industry, so we've decided to separate business and consumer availability.
"We are on track to complete Vista this year," he added.
Vendor Support Cited
Around midday, Microsoft shares were down about 2.5 percent to US$27.04.
The latest delay is a public relations nightmare for Microsoft, which has worked hard to build anticipation for the release, promising tighter integration with Microsoft productivity and communications software as well as greatly enhanced PC and Internet security.
It is also a blow to partners in the PC world. Just last week, PC maker Samsung said it was preparing for a surge in computer and accessory sales in the fourth quarter tied to Vista, going so far as to estimate vendors would see some $370 million worth of hardware upgrades in the U.S. alone.
Microsoft had some PC makers ready to back the move on the grounds that quality was more important than haste.
"We strongly support Microsoft's decision to prioritize quality in determining the schedule for Windows Vista," Todd Bradley, executive vice president for the Personal Systems Group at Hewlett-Packard, said in a statement. "A January launch of Windows Vista allows us to execute in a consistent way throughout the holidays, and will provide the right opportunity for a large, exciting launch industry-wide after the New Year."
Analysts said some PC makers may have had very different comments for Microsoft behind closed doors, since many had been counting on a Vista-fueled holiday season. The first quarter is typically a relatively quiet one for consumer-focused PC sales, with a focus on discounting product not moved during the holidays.
Microsoft also assigned an executive to shepherd the development going forward and keep the rollout schedule on track, a tactic it has had success with on early major product releases.
Delays and Deletions
It may be that what was originally envisioned as Vista never actually reaches consumers, Jupiter Research analyst Michael Gartenberg speculated.
"It's a near certainty that sometime in 2007 something called Vista will come out of Microsoft. But it's certainly not going to be the product that Microsoft described years ago when it was called Longhorn. Key features have been removed and the product has still slipped several times," he said.
Still, he sees little net impact on Microsoft in the long run. "Those that want Vista will wait a few more weeks for it," he said.
Competitors may try to capitalize on the delay, however, with analysts keeping an eye on Apple to see if it attempts to roll out desktop OS improvements during the 2006 holiday cycle.