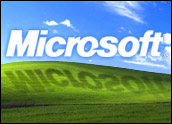 Microsoft on Monday filed an appeal with the Seoul High Court to review the decision in the Korea Fair Trade Commission (KFTC) case against the software giant. The decision would force the firm to unbundle its Windows Media Player and MSN Messenger instant messaging service from its market dominant operating system.
Microsoft's appeal is a lawsuit seeking revocation of the KFTC's decision, which was issued last December. The KFTC had ordered Microsoft to pay a fine of 32.5 billion Korean won — about US$3.3 million — and threatened to force the company to stop all Windows sales if it did not comply with orders to unbundle the products.
Beyond appealing the decision, Microsoft has also requested reconsideration of the decision by the KFTC. Despite the seriousness of the ruling, Microsoft maintains that its actions are consistent with Korean law and have benefited Korean consumers and the Korean technology industry.
"The facts do not support the KFTC's position. Consumers can easily download and use a wide range of software from many different companies," said Jae Hoon Chung, Korea senior attorney for Microsoft. "In fact, market data from Korean Click show that Korean consumers use multiple media players and instant messenger clients. New instant messaging services and media players such as NateOn Messenger and GOM Player are flourishing in Korea."
Korea Tougher Than EU
The restrictions imposed by the KFTC are more extreme than those required by the European Commission. Unlike in Europe, Microsoft would no longer be able to offer in Korea the existing version of Windows that is available everywhere else in the world.
The KFTC's decision would create complexities for Korean hardware and software manufacturers in a way that would erode their competitiveness in the global market, Microsoft contended.
"We believe the Korean IT industry and consumers are best served by the promotion of innovation. Microsoft has provided benefits to consumers and [the] IT industry through innovations to the Windows operating system in response to consumer and developer demand," Chung said.
Hurting Korean Consumers
The restrictions imposed in Korea would limit innovations and also hamper Korea's ability to continue to be a world-class IT innovator, Chung added, arguing that the steps Microsoft is taking in this case serve the interests of Korean consumers who want products with the highest value.
"Korea builds a lot of electronics equipment, so there is an infrastructure that benefits from having Microsoft. Those companies would certainly be hurt if Microsoft pulled out," said Enderle Group Principal Analyst Rob Enderle. "If none of the Korean companies can compete on Microsoft platforms it does create some broader issues for them."
Ultimately, Enderle sees significant repercussions to both Korea and Microsoft if the software giant pulls out of the Asian country. Unlike Apple, which seems likely to exit France if the European nation is successful at forcing the iPod maker to open up its iTunes Music Store, Microsoft appears to be steadfast in its positioning.
"Microsoft continues to invest in Korea and believes in Korea's future as a leading innovator. We remain committed to Korea, to its consumers and to supporting its vibrant innovation in the world market," Microsoft Korea General Manager Jae Sung Yoo said.
Korean Rewind
At the origins of the Korean ruling is Seoul-based portal company Daum Communications' September 2001 complaint against Microsoft's practice of bundling its IM and media player software with Windows.
Daum later sued Microsoft, in 2004. The software giant agreed to pay a $30 million settlement last November to Daum and a $761 million settlement to RealNetworks for similar complaints last November. That did not appease the KFTC, however, which continues to investigate Microsoft's competitive practices.