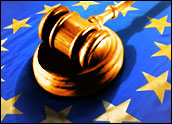 Google is trumpeting victory in a European court ruling over its practice of selling trademarks to competing firms for use in the search giant's paid results program. However, the EU court also set a new standard for national courts that could ultimately reshape how the company's US$23 billion advertising business operates.
The European Union Court of Justice ruled Monday that Google did not infringe on the trademarks of Louis Vuitton and two other plaintiffs who accused the company of selling their trademarks to competitors, including firms offering counterfeit versions of Vuitton products.
It withheld judgment, though, on whether Google's practice of suggesting keywords to competitors could expose Google to liability under laws that otherwise shelter Internet service providers whose conduct is "merely technical, automatic and passive, pointing to a lack of knowledge of, or control over, the data which it stores."
Neutrality the Argument Now
It will be up to the national courts to decide whether Google's sale of keywords violates the law there, Alston & Birdtrademark attorney Jason Sneed told the E-Commerce Times.
"I think it is going to be hard for Google to continue to avoid a decision that is adverse to it on this issue of whether its keyword suggestion tool in particular constitutes the improper use of someone's trademark," he said.
Earlier this month, PC support firm Rescuecom dropped its lawsuit against Google in a similar case, alleging trademark infringement. In that case, the company accused Google of recommending Rescuecom as a keyword to competitors participating in the company's AdWords program.
That end of the lawsuit came nearly a year after the Second U.S. Circuit Court of Appeals ruled that Rescuecom could sue over the matter in federal court, but did not rule as to whether Google's conduct was illegal.
Google's Reaction
Google's policy is to consider only complaints involving trademarks that appear in the text of a sponsored advertisement, but it does not offer a blanket promise that it will remove such trademarks.
Google maintains its conduct is not only legal, but also in the best interests of consumers, according to a blog posting by senior European litigation counsel, Harjinder Obhi.
"Some companies want to limit choice for users by extending trade mark law to encompass the use of keywords in online advertising," Obhi wrote. "Ultimately they want to be able to exercise greater control over the information available to users by preventing other companies from advertising when a user enters their trade mark as a search query. In other words, controlling and restricting the amount of information that users may see in response to their searches."
Regardless, it's only a matter of time before Google will have to address such questions.
The New Standard
The court said it will be up to national courts to decide whether Google's behavior violates neutrality standards.
Google would not be liable for trademark infringement, based on the standard set by the court, if it exercised no control over the sale of specific keywords. However, Google's keyword suggestion tool could prove problematic in terms of the neutrality argument, said Alston & Bird's Sneed, leading a court to rule that it encourages companies to use competitors' trademarks in advertising.
The ruling benefits consumers, Tom Bell, a professor at the Chapman University School of Law, told the E-Commerce Times.
"We should welcome the court ruling, which exonerated Google from claims that it was liable for facilitating the sale of counterfeit goods, as a pro-consumer result," Bell said.
"So long as consumers continue to enjoy protection from ads that engender confusion between authentic brands and falsely labeled knock-offs — protection that the EU court left in place — they only stand to gain from the help that Google and other search engines provide in finding the best deals," he concluded.