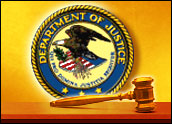 The Electronic Frontier Foundation has filed a lawsuit against the U.S. Department of Justice for not responding in a timely manner to a request it made six months ago under the Freedom of Information Act. The organization had asked for any communications between former DoJ attorney Jane Horvath and Google.
Horvath was named the DoJ's first chief privacy and civil liberties officer in February 2006 — a time when Google was clashing with the agency over a subpoena for search terms. She later took a job with Google.
The EFF request was not based on any notion of a "smoking gun" or other impropriety between Horvath and Google, EFF Senior Counsel David Sobel told the E-Commerce Times.
"We are not looking for anything in particular," he emphasized. "We are just generally interested in having a window into the relationship. We've made similar requests to other agencies that are in contact with certain companies."
The fact that Horvath did eventually move to Google "makes that relationship and any official communication she might have had with Google while at Justice all the more interesting," Sobel said.
Treasure Trove
Justice and other law enforcement agencies have been angling for better access to all search engine data stores, Sobel noted, as they're a virtual treasure trove for law enforcement officials looking for evidence of illegal activity — from online child porn to terrorism.
Before he left office, former attorney general Alberto Gonzalez talked about establishing mandatory or voluntary data retention policies for search engines, with the goal of preserving data for future investigations.
The suggestion sent shivers through the privacy advocacy community; indeed, Sobel cited it as one possible topic Horvath might have discussed with Google before leaving the Justice department.
Flexing Muscles
In what was probably the DoJ's most public display of muscle during its struggle with search engines, it subpoenaed the text of every query made during a one-week period. Many search engines complied.
Google's fight to quash the demand was only partially successful; a judge said the search engine had to provide access to 5,000 random Google search queries. At the time, Horvath was quoted in the press expressing criticism of the DoJ's actions, due to privacy concerns. Horvath became Google's senior privacy counsel in August 2007.
Now that the EFF has sued to compel the DoJ to respond to its FOIA request, Sobel is hopeful that the organization will be able to review official communications between Horvath and Google — if there were any — in short order.
The next step, he said, is for Justice to explain to a judge why it has been so unresponsive, and to outline the steps it will take to comply.
Sometimes a FOIA request is held up because the amount of material requested is huge, or the data sought is obscure and difficult to find. This request, though, is relatively straightforward, Sobel noted.
"I think I have seen Google quoted as saying there were no communications with Horvath in her official capacity," he remarked. "If so, that is fine. Why can't the DoJ just come out and say that?"