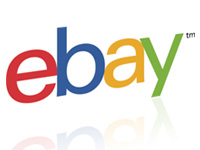 eBay has sprung two changes on its customers and the retail industry: It redesigned its website and logo, and it announced a same-day shipping service — a feature that is well on its way to becoming an expected offering from large etailers, as Amazon and Walmart have illustrated.
The redesign, in keeping with modern aesthetics, is a cleaner, more contemporary look. Gone is the cluttered homepage populated with numerous categories and tiny thumbnail images of various products — a 90s look at best. In its place is a striking opening image. Indeed, the site is focused much more around visuals, drawing comparisons to Pinterest.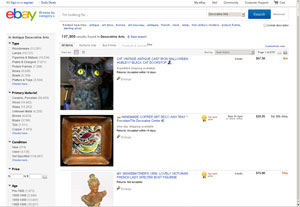 (click image to enlarge)
The new site is also reconfigured to provide a more intuitive way to browse and buy, according to eBay President Devin Wenig, with many changes slated to roll out in the coming weeks.
eBay has also launched a beta of a same-day shipping service called "eBay Now," in San Francisco. Local shoppers can get same-day delivery of goods bought from local retailers via the site. The service is offered for purchases of US$25 or more; shipments reportedly will arrive within an hour.
Fighting Amazon
It is not hard to figure out what is driving these changes: eBay's fight to stay competitive with other etailers, especially Amazon.
"eBay remains a premiere e-commerce player," said Barry Randall, who runs the Crabtree Technology model on Covestor.
"In their most recent quarter, their marketplace transaction revenue grew 10.5 percent over the previous year," he told the E-Commerce Times, "suggesting that the company continues to take market share from off-line commerce. However, during that same period, Amazon.com grew its overall business nearly 30 percent year over year."
This implies that while eBay is strong, it's losing share to Amazon, he concluded — and some kind of action is needed. The changes just implemented, while necessary, might not move the needle that much for eBay, however.
The redesign was needed to keep the site fresh, Randall acknowledged. The same day delivery service is a counter to competitors such as Walmart, which is testing a similar service.
Still, "the changes announced this week, including improvements to eBay's mobile interface and the new eBay Now same-day-delivery service, aren't meant to address specific shortcomings in eBay's business model," Randall pointed out. "They're mostly incremental improvements to keep the company in the forefront of e-commerce, and these efforts are likely to be effective, but only over time."
That time frame shouldn't be a problem — eBay is not going anywhere. In general, there is a new battle unfolding in the retail industry, observed Andreas Scherer, managing partner with Salto Partners, in which the boundaries between brick and mortar retailers and traditional e-commerce companies are blurring.
The steps eBay is taking are just what it needs to address those changes, Scherer told the E-Commerce Times. "In an analysis conducted by Salto Partners, we were able to show that e-commerce vendors who deliver goods from well designed and optimized local warehouses will have a significant price advantage over shop-based delivery approaches."
The Used Goods Taint
eBay has another problem that Amazon and Walmart don't have. It began life as a venue to buy and sell used goods, and it still has that aura.
The redesign and new shipping service will help it shed that lingering reputation, said SapientNitro's Donald Chesnut, chief experience officer and global lead for its experience design practice.
"eBay has always suffered a bit from many shoppers' perceptions of used goods, but the enhanced visual design and product browse features will no longer make the site feel like the online equivalent of a flea market," he told the E-Commerce Times.
eBay's much improved visual design and curated browse paths will allow it to broaden its appeal to a much wider demographic, he said, including shoppers who use sites like Pinterest, Fab or Wantful.