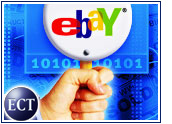 In what may be its most direct competitive move yet against e-tail giant Amazon.com, eBay has announced plans to consolidate its electronics listings into a single online store and to offer free shipping on some purchases.
EBay Electronics is aimed at both consumers and business buyers and features new and used items in the computer, networking, telecommunications, photography and video games categories.
In launching the new store at the Comdex trade show in Las Vegas, eBay said electronics accounted for US$1.4 billion of its U.S. sales in 2001 and is on pace to reach $2.2 billion this year.
The category has been boosted by businesses' decisions to use eBay to sell excess inventory or refurbished electronics, said eBay vice president John Herr. In fact, the auction site said that on average, it sells 27 network switches and routers every hour and about 1,800 laptop computers per day.
Battle Joined
While Amazon and eBay have had skirmishes over the years, including legal battles over former employees, they have largely co-existed as the two largest e-commerce sites. But eBay has made no secret of its desire to use its platform for fixed-price sales as well as auction-style purchases.
"EBay has been the number one online shopping site, based on user minutes, for the last two years," Herr said.
Amazon could not be reached for comment on eBay's latest moves. Electronics has been a centerpiece of Amazon's expansion. In addition to its free shipping deal, the company has an in-store pickup partnership with Circuit City. Amazon's electronics section began accepting pre-orders for the much-hyped Segway Scooter (price: $4,950) Monday.
First-Time Deal
The auction site described its free shipping deal as "a first-time promotion" and said users could aggregate items available with the feature on its site.
The offer is likely a nod to the fact that Amazon recently extended its offer of free shipping on all purchases of $25 or more at least through year's end.
The free shipping offer actually comes from eBay's sellers, not from the site itself, which generally takes an arm's-length approach to sales details.
Been There
The consolidation approach is not new. EBay made a similar move recently when it brought all of its sports-themed items — including event tickets, sporting goods and memorabilia — onto a single site.
The idea, Morningstar.com stock analyst Mark Sellers told the E-Commerce Times, is to expose shoppers to the range of items available on eBay in order to drive up sales.
"EBay has set very high goals for itself in terms of growth," Sellers said. "If it's going to meet them, it has to innovate and keep the site fresh and make it more attractive to sellers to list there."
eBay shares surged $1.67 to $67.64 immediately after the news hit, but lost nearly all of those gains in early trading Tuesday. Amazon shares were down 3 percent Tuesday to $21.74.