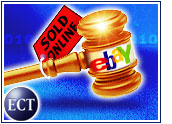 EBay Real Estate said its "land marketplace" has met with strong demand, with 15,000 parcels of property sold since the offering debuted last year. According to eBay, a parcel of land is sold through its site every 45 minutes.
However, several months after eBay held the first-ever live auction of a home on its site, the company continues to be limited by local regulations in many areas. For example, one regulation requires the involvement of an in-state representative in all real estate transactions.
The strong land sales performance comes at a time when eBay is involved with business and legal issues. The company is still dealing with its acquisition of online payment service PayPal and is being threatened with a patent infringement lawsuit that could force the company to modify its auction format.
Small Potatoes
While the move to selling larger items like online real estate might be a potential boon for eBay, which has set ambitious revenue growth goals, analysts remain skeptical that the Web will become the favored medium for real estate transactions.
"I continue to think real estate will not be a driving force in eBay's growth," Morningstar.com analyst David Kathman told the E-Commerce Times. "There are too many complicating factors, at least at this time."
Others say that e-commerce firms' difficult experiences with online real estate suggest that the sector is not an easy one in which to turn a profit. For instance, Homestore.com narrowly escaped delisting early this year after restating earnings and admitting that it overbooked revenue from bartered advertising deals.
"Any Internet application that tries to take brokerages out of the mix is going to have a difficult time of it," Gartner vice president Mike Bell told the E-Commerce Times. "People still very much depend on brokers and agents to guide them through the process."
Mountain Home
Despite apparently strong sales on eBay Real Estate, eBay has not changed its outlook for the current quarter or the rest of this year. The company's main growth drivers in recent quarters have been overseas expansion and strong performance in its core business areas.
But the auction giant said its marketplace has helped connect thousands of people to parcels of land around the country, from remote mountain retreats to land in urban areas.
In a press release, eBay quoted one land broker who called the marketplace a "21st-century land grab" and others who cited the uneven stock market as a reason why more people are turning to land as an investment.
EBay said rural areas of southern Colorado are the most popular place for land sales, followed by areas north of Los Angeles and on Florida's Gulf Coast. Other popular areas, according to eBay, are West Texas, Southern Wyoming, and the Ozark, Blue Ridge and Cascade mountain ranges.
More Snags
Meanwhile, while eBay continues to expand, the company faces several hurdles. Its acquisition of PayPal still requires approval from eBay shareholders. That approval is expected to come this fall, but the two companies face several other hurdles, including investor lawsuits filed in mid-July, which allege that the deal undervalues PayPal shares.
In addition, state regulators continue to probe PayPal's online gaming business, which eBay has said it will discontinue when the merger is complete. Once the deal closes, eBay will emerge with PayPal in a different competitive landscape, especially as several other large companies have been reconfiguring their online payment systems.
Another complication the company must face is a patent infringement lawsuit filed by MercExchange founder Thomas Woolston, an inventor and patent attorney who claims to own rights to certain patents that cover elements of eBay's online auction model. Woolston has alleged that eBay knowingly violated several of those patents.
Woolston's suit was filed in 2001 after eBay attempted to buy the patents from him. EBay acknowledged the case in a recent U.S. Securities and Exchange Commission filing, saying that a favorable ruling for Woolston could "materially harm our business." The trial is expected to begin November 12th in U.S. District Court in Virginia.