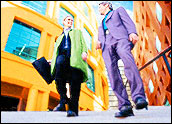 Following a 10-day tiff in which eBay pulled out of Google AdWords, the online auctioneer has apparently set its grievances aside and on Friday returned to the pay-per-click advertising program.
"We are now slowly turning AdWords back on, in a much more limited way than before," eBay said.
"We will continue to work with Google, Yahoo, AOL, MSN and other partners to reach more potential buyers and accelerate business for our community of sellers," the company added.
Google could not be reached for comment.
Just a Test?
Indeed, eBay described its time away from Google as a test of other advertising alternatives, which included Yahoo, AOL and MSN.
"The test we began last week was successful," eBay said. "We found that we were not as dependent on Google AdWords as some may have thought. By reallocating our marketing dollars to our other partners, we were able to increase traffic and find efficiencies that will enable us to drive more value to our sellers and partners going forward."
The company plans to continue incorporating other advertising partners in its mix for marketing its online auctions, it said.
Party Clashing
A conflict between the two firms arose when Google planned a party aimed at encouraging eBay vendors to pressure the online auction site to accept Google Checkout as a method for payment. eBay strongly urges its sellers to use its PayPal service for closing sales.
The tipping point was that Google's planned party — dubbed the "Google Checkout Freedom Party" — coincided with eBay Live, a yearly gathering of eBay sellers and fans that took place this month in Boston. Google ended up canceling its party, but meanwhile eBay pulled its advertising from the AdWords program.
"That tactic — trying to siphon traffic from a competitor during their venue — has been used in the industry a lot, but it's not very classy," Roger Kay, president of Endpoint Technologies, told the E-Commerce Times.
'Not Exactly Makeup Sex'
Before the clash, eBay had been the largest single AdWords customer in the United States, according to both comScore and Nielsen//NetRatings. It spent about US$25 million a quarter on AdWords, according to RBC Capital Markets analyst Jordan Rohan.
It may be back, but eBay's portrayal of its return to AdWords is "not exactly makeup sex," search expert John Battelle said.
"I guess, after whatever their initial expression of feelings was, eBay decided to come to their senses and resume doing business," Kay added.
Mixed Relationships
Among large technology companies today, it's rare to have relationships that are purely competitive, Kay noted.
"Intel and AMD may be one example of a purely competitive relationship, but most companies have some areas where they cooperate, and others where they compete," he said. "They have to figure how to manage that."
Without cooperating, Google loses advertising revenue, while eBay loses a venue for its advertising, Kay said, so it's in both their interests to make the relationship work.
Overall, "eBay just wanted to say to Google, 'Don't take us for granted,'" Kay concluded.