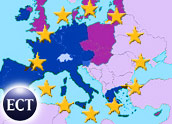 European Union regulators said they would expand their ongoing probe into the privacy issues first raised about search engine giant Google to include other major search tools.
The decision of the European Commission's data watchdog group, the Article 29 Data Protection Working Party, to broaden its probe into the privacy implications of rapidly evolving search technologies means Google will have to wait longer to find out whether it will face any sanctions from European regulators.
After gathering information from Google about its privacy policies, the group said it would "deal with search engines in general, and scrutinize their activities from a data protection point of view."
Top Five
The Article 29 Data Protection Working Party, made up of national data protection supervisors of the European Union's 27 countries, gives non-binding advisory opinions to the European Commission. The exact search engines covered by the examination were not mentioned, but indications are that it would include at least the top five search providers, which in addition to Google include Yahoo, Microsoft, AOL and Ask.com.
At issue is the memory of search engines — including Google — which gather information on users by tracking their searches, the links they follow from search results and other movements. That data is collectively used to help Google improve its search tools and to help advertisers create more effective campaigns.
The group did not say how long its expanded inquiry would take or specify what if any additional information it would seek, but did say it would examine the data-retention practices of the industry in general.
Time at Issue
One of the factors the group has focused on is the length of time Google retains information about a user. Google had offered in a letter to the group earlier this month to cut back on its data-retention time frame, knocking it down from two years to a year-and-a-half.
The group of regulators appeared to be concerned that the longer information was kept, the more it was at risk for being lost, stolen or inadvertently shared. Google also offered to give the cookies its search tools install on users' computers a lifespan of 30 years. Currently, those lines of software code that help the search engine remember a user's preferences have no expiration date. However, in terms of computer lifespan, the distinction between 30 years and forever is essentially meaningless.
Some key regulators have lauded Google's latest efforts to beef up privacy policies, including the shortened time frames; however, a formal response from the data privacy group will likely have to wait until the working group reconvenes in the fall.
Last week, EU Justice and Home Affairs Commissioner Franco Frattini called the concessions "a good step" and said he appreciated the "commitment of Google" to address privacy concerns.
The fact that Google had planned to keep data longer and to scrub personal identifying information but keep the overall data stored indefinitely was what had first drawn the EU's regulatory ire.
On the Map
While other search engines have similar data-retention policies and capabilities, Google's high-profile extension of its search tools into new areas may be what drew it into the crosshairs of regulators in Europe first.
In recent weeks in particular, Google has raised the hackles of many a privacy advocate with its Google StreetView, a mapping tool that offers street-level images and videos.
Google has cited its own privacy concerns and concerns about data security and fraud prevention in its defense of its data-retention policies, but the bottom line remains that Google can turn that information into revenue, JupiterResearch analyst Barry Parr told the E-Commerce Times.
"Privacy concerns are only getting more prevalent," Parr said. "Google has taken a leadership position in other aspects of the Web, and as the big player, they can set the tone in this discussion as well."
Google's ability to personalize search through both remembering preferences and knowing a user's location — and to leverage the data it collects — is a big part of its overall advantage as market share leader in search, noted Sterling Market Intelligence Principal Analyst Greg Sterling.
"Google's efforts to personalize and refine search and the research and development investment being made around leveraging that data is one of the main reasons competitors will find it so hard to steal back market share," Sterling told the E-Commerce Times. At the same time, Google will be able to enhance its reputation with advertisers by getting more positive response from better-targeted ads delivered using the same data, he added.