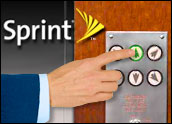 Germany-based Deutsche Telekom could take over the top position in the U.S. wireless telephone market if reports of its potential bid for Sprint Nextel prove true.
The company may place an offer on slumping Sprint within the next few days, according to press reports.
Deutsche Telekom's T-Mobile USA is currently the No. 4 wireless company in the U.S.; Sprint Nextel, with a market capitalization of nearly US$24 billion, is No. 3. AT&T and Verizon Wireless hold the No. 1 and No. 2 market positions respectively.
Sprint Nextel isn't discussing the possible takeover. "We are not commenting on rumors or speculation," Sprint Nextel spokesperson Leigh Horner told the E-Commerce Times.
Deutsche Telekom officials reportedly aren't commenting on any plans to bid on Sprint Nextel.
Integration Skepticism
Tossing cold water on the speculation, Steve Clement, an analyst with Pacific Crest Securities, told the E-Commerce Times that a deal like this isn't likely to work.
"The assets of Sprint Nextel would be pretty interesting for them, but the reality is that Sprint Nextel is a stand-alone, and there aren't a lot of easily gained synergies there," he said. "It would be a pretty messy integration, and I don't think they'd be interested in paying much of a premium for Sprint Nextel."
Difficulties remain from Sprint's acquisition of Nextel, he noted. "Sprint and Nextel really haven't been integrated to date; it's been a very messy process."
Plus, marrying two very different technologies would be a major hurdle to surmount, Clement continued. "It's very complicated."
Merging technologies could jeopardize the value of acquiring Sprint, echoed IDC analyst Chris Hazelton.
"For T-Mobile to acquire Sprint, they're going to have to decide how to migrate those customers over from one technology to the other," he told the E-Commerce Times. "The cost could outweigh the value they'd get from the additional subscribers."
Stopping the Bleeding
Sprint Nextel saw its sales drop to $40.15 billion in 2007 from $41 billion a year earlier. In January, the company announced 4,000 job cuts and the closure of 125 company-owned retail stores.
"They've been bleeding customers, and the first question is, what are you going to do differently to stop the bleeding?" commented Alan Chapell, president of Chapell and Associates.
Deutsche Telekom acquiring Sprint could provide an answer, as "T-Mobile has been kind of this boutique firm that has paid attention to innovation," he told the E-Commerce Times.
"I hope consolidation brings more choice to customers," Chapell continued, "but, generally speaking, that doesn't often happen. Integrations generally don't often help, because it tends to make these companies lose focus. The idea of consolidation isn't necessarily helping consumers — that's problematic from an innovation standpoint, [but] that may be beside the point, as carriers continue to lose control over their own ecosystems."
Keeping an Eye on Shares
Sprint Nextel shares were up 50 cents at $8.39 Monday morning on the New York Stock Exchange. They had bottomed out, year-on-year, March 18, at $5.48. The stock peaked for the 52-week period at $23.42 on June 4. Deutsche Telekom had been considering making an offer for Sprint Nextel after the latter's stock price dipped below $10 a share, according to reports.
Deutsche Telekom shares were down 26 cents at $17.85 Monday morning on the NYSE. Year-on-year, its shares reached a high of $23.05 on Jan. 10, bottoming out at $16.11 March 20.
T-Mobile USA, which operates out of Bellevue, Wash., generated 2007 sales of $19.3 billion, up from $17.1 billion in 2006. In February, the company reported a customer base of 28.7 million, having signed up 3.6 million subscribers in 2007. Its $1.6 billion acquisition of U.S.-based SunCom Wireless Holdings, which brought in 1.1 million customers, closed Feb. 22.