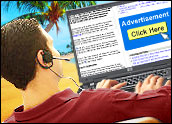 The report came out right before the economy nose-dived, before ad revenues started to shrink, before even online display advertising started feeling the recession's pinch. A February 2007 report from the Audit Bureau of Circulations — the keepers of media buying/selling trends and standards for publishers and advertisers — highlighted the opportunities and the challenges for the then-still-hot online advertising space.
"The good news is that online advertising can be a highly precise, measurable form of media. However, the wide variety of metrics available from third-party ad-serving companies, audience measurements firms, and Web analytics tools can make for a confusing environment," the report states. "As this research indicates, advertisers and ad agencies do not yet fully trust the metrics or reporting methods in place."
This is the new battlefield for Seattle-based serial entrepreneur Matt Hulett, late of Expedia and Atom Entertainment. Now CEO of online advertising optimization company Mpire, his weapon of choice is AdXpose, a new technology currently in beta that Hulett says can help both Web advertisers and publishers spend their money more efficiently, thanks to better tracking and data.
That's a direct challenge to other, more established companies in this rapidly growing space. "I made some comment to the internal team and to some potential partners that I was pretty nervous about this product release because it's pretty disruptive," Hulett told the E-Commerce Times. "I was expecting a lot more pushback from the industry because it does expose — no pun intended — a lot of deficiencies and inefficiencies. The ad network space makes up 80 percent of the ad spend, and this product really dives through this spaghetti and comes up the other side to provide insight to advertisers."
Exposing AdXpose's Details
In the online advertising universe, Mpire plays in the space between publisher supply and advertiser demand. The lingo on Mpire's Web site, as mentioned above, refers to it as "online advertising optimization," but a better name is the "online marketing infrastructure space," Hulett said, "and it is a hot market from the investment perspective. The companies in this space are really driving a renaissance in online advertising, doing things with data, because the pipes and the foundation for the house have already been built, and the fit and finish are being layered on top of the house. There's a tremendous amount of [venture capital] funding flowing into the space."
Mpire just completed its series B round of funding from Seattle venture firms Draper Fisher Jurvetson and Ignition Partners. The company has 17 employees and has no money-draining upfront data center costs, thanks to EC2, Amazon's cloud computing service. When it comes to capital, said Hulett, "We got what we need — we're good for a while."
A lot, however, is resting on AdXpose. The proprietary technology adds special tags to campaign content from brands and ad agencies before they are placed with ad exchanges, ad networks or directly onto Web sites. From there, the company can determine — in real time — where those ads were placed on a site (above or below "the fold," or before or after a user has to scroll down a Web site); percentage of ads views, or impressions; the time spent by users on or within those ads; and whether or not a consumer's mouse actually hovered over an ad.
"Advertisers want to know where their brand is appearing. They don't want it appearing on sites that they deem not the right target," Hulett said. "Secondly, they want to know if they are potentially being seen and the placement is appropriate. And the last thing it exposes is what the consumers are doing with those ads, their behaviors. Ad guys call that 'engagements.' It's mouse movements. We know, for example, if consumers are clicking on the right things or wrong things, and the advertisers can change their creative [approach] based on that information."
One example Hulett cited is a beta partner that rolled out a $300,000 travel campaign through a popular ad exchange. Within minutes, the partner found that a third of the impressions were not seen or were in inappropriate places for a travel campaign. It used the technology to stop the campaign and reallocate the money to other sites.
Publishers — the ones providing the inventory space for those ads — are also giving an early thumbs-up to AdXpose's beta product, Hulett said. "They know ad rates are falling with the bad economy, and they're hoping to use this information to show areas where they can potentially negotiate up on rates. If you have a sponsor and you're not getting clicks, but you can show interaction with the ad, a lot of publishers are excited about showing that data back to advertisers."
The Potential Obstacles
Therein lies a possible land mine on Hulett's new entrepreneurial battlefield, according to Marissa Gluck, a Radar Research analyst.
"After a while, they're going to have to choose a side. It's very hard to serve both masters — advertisers and publishers," Gluck told the E-Commerce Times. "A lot of companies have tried that and failed. It's really hard to sell one product to publishers and say, 'We're going to optimize your inventory so you have the highest CPM (cost per thousand impressions),' and then turn around and tell advertisers, 'We're going to get you the lowest CPMs.'
"A lot of companies have claimed to provide better measurement," she said. "Who is able to present that data in a way that's actionable? I think these guys (Mpire) understand the need for optimization. But when they were talking about acting as an audit company, I see that as a much more challenging environment than as an automated optimization company."
There is a need for better online ad measurement, Gluck agreed. The problem isn't a lack of data — it's too much. The current economy demands that advertisers be more accountable and efficient, "and any company that accelerates that or helps that stands to win. For a company to succeed, they need to be able to parse out what's more important in that sea of data."
The economy is chipping away at returns for display ads, search-based ads and advertising budgets in general, and it has narrowed the window for startups to prove their business models. However, Mpire has been nimble with its product offering, according to Hulett. "We sprinted to the starting line on the product. As I say to the team, if I would have launched this technology a year ago, it would have been a different situation. But it feels like the timing's good. Every entrepreneur will say that downturns are the best time to launch. People are very creative right now, and they're trying to make money.
"The startups that can live through this period and build a real business with unique intellectual property will be in pretty good shape," he said.