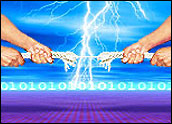 Dish Network has asked the U.S. Federal Communications Commission to pause its review of Softbank's proposed US$20.1 billion acquisition of Sprint while the two companies battle over their bids to buy Clearwire.
Dish contended in a filing this week that the FCC's review of Softbank's acquisition is "unripe for consideration" since full ownership of Clearwire has not yet been established.
Sprint already owns more than 50 percent of Clearwire. About a month ago, anticipating cash from the Softbank acquisition, it announced plans to buy the remaining Clearwire shares for $2.2 billion, or $2.97 per share.
The Dish Network then countered with an unsolicited offer to buy all of Clearwire's available shares for $3.30 each. The offer was higher than Sprint's, but also more complicated. As the majority stakeholder in Clearwire, Sprint would have to approve the deal. It has already said it believes its offer is superior and will not waive its rights as shareholder to let Dish's offer pass.
Clearwire acknowledged Dish's offer but pointed out its contractual obligations to Sprint, making any other buyout agreement difficult to consider. The remaining shares of Clearwire have not yet been purchased.
Thus, the Commission cannot rule on Softbank's acquisition of Sprint, Dish alleged, since Sprint's deal with Clearwire depends on the cash Sprint would receive if the Softbank acquisition were approved. If Sprint didn't have the cash to pick up Clearwire's shares, it would be Dish's for the taking.
Dish, the FCC, Sprint and Softbank did not respond to our requests to comment for this story.
Pressing Need for Bandwidth
Both companies have a need for the additional bandwidth Clearwire could provide. Sprint hopes to expand its 4G LTE network to keep up with consumer data demands and better compete with AT&T and Verizon.
Dish has considered offering wireless service in addition to its TV offerings, a move helped along by recent FCC approval for Dish to convert satellite spectrum into bandwidth that would support a land-based wireless network.
Sprint and Dish aren't alone in their quest to pick up spectrum, said Peter Rysavy, wireless consultant at Rysavy Research. With more consumers turning to their smartphones and tablets to play games, stream movies and browse the Web, data usage is skyrocketing and wireless providers are scrambling to provide.
"It's very clear there is a spectrum demand," Rysavy told the E-Commerce Times. "There's a lot of pressure on mobile broadband providers to obtain it, and a lot of pressure on the government to free it, so it's no surprise that companies are going to extra lengths to do what they can to get it. There are no shortage of deals in this area."
Bargaining Tactics
Dish's plea to the FCC is an example of those extra lengths that companies are willing to take, said Joel Espelien, senior analyst at TDG Research. While the satellite provider probably understands the FCC isn't going to go out of its way to appease Dish's request, it's doing what it can to put a wrench in the negotiations.
"The FCC wasn't born yesterday," he told the E-Commerce Times. "They understand that this is a type of gamesmanship which could be a move to buy time to prepare a more competitive offer or a different deal. In any mergers and acquisitions deal, the enemy is time, so even if Dish's request isn't very effective with the FCC or Dish doesn't end up getting the spectrum, something else could happen in the meantime that would stop the Softbank deal. It's a tactic."
Those tactics are especially needed for a company like Dish, Espelien noted. While a carrier such as Sprint is hoping to build out its existing network, the cost and initial investment to build a wireless network from scratch is especially high. Dish understands there is only so much spectrum available and will do what it can to keep it out of competitors' hands.
"It's like a game of musical chairs, where when the music stops, you need a chair," Espelien observed. "If you don't have a chair, you're out. And if you're on the outside looking in, that puts you in a pretty desperate position."