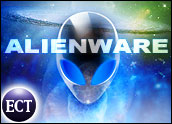 Dell has reportedly decided to scrub several models in its high-end line of XPS PCs. The computer maker is turning away from the XPS machines to limit competition with its Alienware systems, according to a report in the Wall Street Journal.
Dell acquired Alienware back in March 2006 but allowed the gaming PC maker to continue to operate independently and sell its brand of high-end computers.
"They're only doing this because of the Alienware acquisition. I think it's just streamlining production into a single gaming brand," Michael Pachter, a Wedbush analyst, told the E-Commerce Times.
There Can Be Only One
Alienware was established in 1996 and quickly became a major high-performance PC brand among hardcore gamers looking for systems that start around US$3,000. Some of the best-equipped Alienware products can cost several times that. The company is known for its Alien-inspired motifs and machines with names like "Area-51," "Hangar 18" and "Aurora" as well as its innovative and colorful designs.
The main reason Dell has backed off of the XPS line is that it was competing with Alienware, said Mike Goodman, a Yankee Group analyst.
"It's hard enough competing in the marketplace when you don't have to compete against yourself," he told the E-Commerce Times.
Dell initially kept both brands, according to Goodman, because the company thought of Alienware as much flashier and extreme than the XPS line.
"Initially, XPS was supposed to be the family sedan, and Alienware was supposed to be the high-end gaming computer. Well, over time, they really morphed the XPS into a high-end machine, with the last model released competing for the exact same market as Alienware brand," Goodman stated.
PC Cannibals
Part of the reason gamers buy an Alienware computer is because of the name. "You buy a Coach bag, part of what you're buying is the name Coach. If you buy an Alienware computer, you're buying part of the name," he said.
As the XPS line began to include a lot of the same features as the Alienware machines, it started to undercut the Alienware market, Goodman explained. "It was creeping closer to the Alienware products, and all they were doing is creating market confusion and diluting the Alienware brand."
Dell's decision to shrink its XPS line follows a similar move by arch competitor HP, which purchased Alienware rival VooDooPC in September 2006. Less than one year after the purchase in August 2007, HP announced its upcoming Blackbird 002, marketed as having VooDooDNA inside. In this instance, HP retained its own brand.