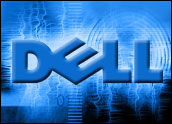 Dell took a hard hit on Wall Street Wednesday after it revealed sluggish PC sales and a disappointing quarterly earnings report.
Shares of Dell were down 17 percent Wednesday, Dell's biggest one-day drop since 2000. The stock, already down 15 percent on the year, closed at US$12.49.
Shareholders expressed disappointment with the company's Tuesday earnings report. Dell revealed revenue of $14.4 billion for its fiscal first quarter, down 4 percent from a year ago and lower than expected. Profit was down 33 percent to $635 million.
The Texas company acknowledged that increased competition and its slow transition to being a total enterprise services and solutions provider contributed to earnings. Shares fell in overnight trading after the report arrived and continued to dive as the market opened Wednesday.
"Undoubtedly shareholders are very frustrated," Shaw Wu, analyst at Sterne Agee, told the E-Commerce Times. "Expectations weren't that high to begin with, but they even missed those, and there is a lot of questioning and doubt right now about their business plan and turnaround."
Dell did not respond to our requests for comment.
Admitting to Competition
With its core in the PC industry, Dell is struggling with sales as more consumers turn toward smartphones and tablets for computing functions. Brian Gladden, CFO at Dell, acknowledged in the earnings statement that the PC market is only getting more crowded, adding to Dell's struggles.
"For the first time they're finally admitting what a lot of people already know: that they are losing share in a competitive market," said Wu. "Mobile devices are computing devices now, and Apple and Google are taking a lot of that share."
Unlike some market pressures, such as a poor economic climate or supply chain issues, that's not a problem that's going away anytime soon, said Amit Daryanani, analyst at RBC Capital.
"Dell really admitted for the first time that demand is being impacted," he told the E-Commerce Times. "The company has a bunch of issues as far as reorganization, but there is also a lot of competitive pressure there that's not going to go away. Part of the stock reacting the way it is is that consumers are going towards tablets and smartphones, and everyone knows that trend is going to continue."
The company also said that with larger enterprise customers, PC sales were and will remain sluggish because they will be slow adopters to Microsoft's Windows 8 operating system, which is expected to launch later this year.
"One thing they're banking on is Windows," said Wu. "But Microsoft failed to even compete against RIM, so that's still a big unknown."
How to Proceed
But even with Apple and other competitors rapidly taking over mobile and tablet markets, the company doesn't have to sustain growth at Apple-level pace to please shareholders more than it did Wednesday, said Wu.
"The biggest fear and frustration with shareholders is inconsistency," said Wu. "Investors want predictability, even if it's with relatively low growth."
Since Dell is struggling while trying to compete with Apple and Google, its efforts to transform are a good move, said Daryanani. Enterprise solutions and services businesses are now about 50 percent of Dell's gross margin, and Gladden said in the earnings report that the company will continue making the "necessary investments" to keep up that side of the offerings.
"Dell is trying to transform themselves from being PC-centered to more enterprise-focused, and I think that's the right strategy," said Daryanani. "Some bigger acquisitions would even help investors get more intrigued. But it's going to be tough to manage and maintain the margin within competition going forward."
Even if it's the right strategy, it's probably going to be a bumpy ride to getting there, said Wu.
"They're trying to become more like an IBM, but that's difficult," he said. "It took IBM a long time to get to where they are. HP is probably closer, but they're in trouble too. Dell is in a very tough position."