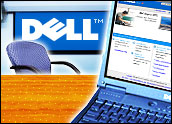 Dell President and COO Kevin Rollins moved up to the PC company's top spot today when he took over the CEO reins from company founder Michael Dell.
The move was described as more a change of title than duties and is not expected to be followed by significant strategy changes, the world's largest PC maker said in a statement.
Rollins will continue working together with board Chairman Dell as they have for many years, the statement said. Rollins, 51, also gained a seat on the board of directors at today's annual shareholders' meeting.
"As they have for more than seven years, Messrs. Rollins and Dell continue to run the company with a distinctive shared-leadership structure — Mr. Rollins now as president and chief executive officer, Mr. Dell as chairman of the board," the statement said.
No Big Changes Expected
"Today's change is primarily one of title, not of roles or responsibilities, so it won't alter the way Kevin and I run the business," Dell said. "However, the change is a very important and exciting milestone, our first transition of top leadership," he added.
Dell lauded Rollins, saying, "There is no single person who deserves more recognition for our great accomplishments than Kevin. His becoming CEO is as much about recognizing what he's already done as it is about our confidence in his future and Dell's."
"Our leadership approach works because we see our roles as partners, we execute our responsibilities as friends, and we share a dedication to making Dell the best company in the world," Dell said.
Today's action followed through on the proposal unanimously approved by Dell's board of directors in early March. Shareholders also elected Rollins to the company board.
Milestone Action
Dell, who founded the company that bears his name in May 1984, has been Dell's only chief executive officer — until today.
The change comes during good times for the company. In his remarks to investors, Rollins said second-quarter earnings are expected to exceed Dell's initial guidance. The company now anticipates earnings per share of 31 cents, two cents better than the company's initial guidance. Higher operating profitability is expected to produce earnings per share of 30 cents; the balance of the guidance increase is attributable to a further decline in the company's global tax rate.
Dell continues to anticipate second-quarter revenue of $11.7 billion, according to the company statement. The company's second-quarter tax rate is now expected to be 24 percent, which brings the average rate for the first half of the year to 26 percent — consistent with current expectations for all of fiscal 2005, given continued strong growth in business outside the United States.
Company revenue for the past year totaled $43.5 billion.
Shareholders' Action
"Our business is uniquely efficient and customer-focused, and its fundamental advantages are as significant and sustainable as at any time in our history," Rollins said. "That's true in network servers, in storage, in professional services, and in printing and imaging."
In other business at the shareholders' meeting, shareholders:
Re-elected nine company directors: Donald J. Carty, Dell, William H. Gray III, Judy C. Lewent, Thomas W. Luce III, Klaus S. Luft, Alex J. Mandl, Michael A. Miles and Samuel A. Nunn Jr.
Elected Rollins to replace Morton L. Topfer, who chose to retire from the board.
Rejected a nonbinding shareholder proposal that Dell establish a policy of expensing stock options in the company's income statements.
Ratified PricewaterhouseCoopers L.L.P. as Dell's independent auditors for fiscal 2005.