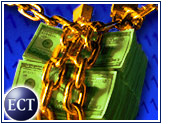 Demonstrating that e-commerce blight is sweeping beyond e-tailers to claim casualties among the companies that serve them, e-commerce transactions services company CyberSource (Nasdaq: CYBS) announced Thursday that it is restructuring its operations and lowering fourth quarter revenue projections.
The Mountain View, California-based company said it is reducing its worldwide workforce by 20 percent, or about 90 jobs. The company also said it will streamline its information technology (IT) and customer service departments.
CyberSource, which counts among its 3,000-plus clients such corporate titans as Walmart.com, Kmart's BlueLight.com and Nike, said it believes the restructuring "will help reduce its expenses and aid the company's goal of becoming cash flow positive" by the fourth quarter of 2001.
"The e-commerce market has changed dramatically over the past nine months, and CyberSource has evolved in response to these changes," CyberSource chairman and chief executive officer Bill McKiernan said. "We believe these moves to rationalize, consolidate and streamline our company as well as to selectively re-price some of our offerings are both prudent and timely."
Lowered Expectations
Pointing to the recent downturn in the dot-com sector, the company said that it now expects its fourth-quarter total revenue to be in the range of US$8.1 to $8.4 million, down from previous estimates of $10.2 to $10.5 million.
However, the company said it was "able to control its expenses" during the fourth quarter and believes it will still meet its original earnings projection of a 44 to 46 cent loss on a pro forma basis.
McKiernan said that despite the company's lowered revenue projections, its financial position remains strong, and that the company is entering 2001 with acash balance of over $92 million.
CyberSource will take a restructuring charge, estimated at no more than $5 million, in the first quarter to cover expenses related to the workforce reduction and streamlining. According to the company, more details on this charge will be provided on the company's regularly scheduled conference call announcing fourth quarter and full year 2000 financials later in the month.
Fewer Transactions
The lowered revenue projections came because the company processed only 59 million transactions during the fourth quarter of 2000, short of the 63 to 65 million transactions it had projected at the end of the third quarter.
"Several market research companies have indicated that this year's online holiday sales were at the low end of their growth projections," McKiernan said. "We processed a record number of transactions in the fourth quarter, approximately 170 percent more than last year's fourth quarter; however, it was below our expectations going into the quarter."
Added McKiernan: "The market for professional services in the fourth quarter was exceptionally difficult, as witnessed by the number of pure professional services companies that have already made similar announcements to this one."
CyberSource shares were trading at $2.19 early Friday, after closing Thursday at $2.16. Since the company went public in June 1999, the stock has traded as high as $66.50.
New Year's Purge
The first week of 2001 has seen a host of dot-coms, both great and small, announce layoffs or shut their virtual doors. On Thursday, toy e-tailer eToys announced that it is laying off 70 percent of its workforce and closing two warehouses. The move followed a Wednesday announcement that the company is shutting down eToys Europe.
In addition to eToys and CyberSource, layoffs were announced at online job site Vault.com, which let go a third of its workforce, and Internet music search engine Listen.com, which cut 25 percent of its staff.
Meanwhile, buy-by-group site Mercata announced Thursday that it is shutting down, one day after pulling a planned initial public offering.
Also calling it quits this week were the German-language version of financial site Motley Fool and the online music company Musicmaker.com.