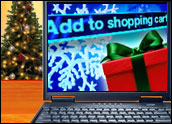 In what's become an annual event known as Cyber Monday, millions of shoppers logged onto the Internet from their jobs yesterday for holiday shopping.
While not the biggest online shopping day of the season — in terms of total shopping volume, that often occurs before Thanksgiving, though for some retailers, the busiest hours are yet to come — the first day back to work after the Thanksgiving holiday for many has become a banner day for e-commerce.
Shopping at Work
Data from various sources confirmed the surge in traffic. Akamai's Net Usage Index for Retail showed a 35 percent spike in traffic, with some 1.6 million visitors per minute visiting such sites over the course of the day. Traffic hit a fever pitch in the mid-afternoon, Eastern Time, with more than 3 million visitors clicking onto the 200-plus retail Web sites that Akamai tracks.
Akamai's Web data shows that Monday is typically the busiest day for visiting e-commerce sites, even during the rest of the year.
The National Retail Federation and its online arm, Shop.org, coined the phrase Cyber Monday to draw attention to the rise of e-commerce. Meant to be the counterpart to Black Friday, the day after Thanksgiving that has traditionally helped brick-and-mortar retailers reach profitability for the year, the back-to-work traffic surge has been a closely phenomenon for several years.
But just as Black Friday is not always the year's busiest shopping day, analysts say Cyber Monday probably isn't the biggest haul for e-commerce either. Traffic data from comScore Networks suggests that peak came this year on Nov. 22.
The marketing push behind Cyber Monday may not be welcome at many corporations, where high-speed Internet connections are being used to speed online shopping and buying, likely distracting millions of workers in the process.
Happy Retailers
While many major retailers avoid giving real-time updates on their sales, some individual e-tailers stepped forward to report strong sales on Cyber Monday.
eBags Inc. said it had record sales, with revenue up nearly 60 percent over the same day last year. eBags said a newly launched Web site under the 6pm.com brand and upgrades to its e-commerce operations helped it capture more sales.
Shopping.com also noted a surge in traffic on Monday. While visits to its comparison shopping search engine were up 30 percent over last year on Black Friday, traffic was up 37 percent year-over-year on Cyber Monday, the company said.
CEO Lorrie Norrington suggested that as consumers become more comfortable relying on deliveries to arrive in time for the holidays, Cyber Monday will herald a strong finish to the online buying season. "More mainstream consumers than ever before are using the Internet to find, compare and buy their gifts," she said.
Forrester analyst Carrie Johnson said shoppers have been pushing the end of the online shopping season back further each year, as their confidence grows that purchases will in fact show up on time.
"The days of online buying coming to a stop a full week before the holiday are a thing of the past," Johnson said. This year, Christmas falls on a Sunday, which leaves open the possibility of Christmas Eve deliveries from some retailers, including Amazon.com.
Those last-minute deliveries will come at a cost, however, and many online buyers are motivated by free shipping promotions. "They are a big driver of the traffic we're seeing early in the season," she added.
Web Sites Withstand Surge
Additional good news for the e-commerce industry came in the form of reports that most major retail sites were standing up to the pounding of millions of visits with little or no problems.
According to Keynote Systems Senior Internet Analyst Roopak Patel, response times to complete searches or transactions on major sites went as high as 12 seconds over the weekend after Thanksgiving, but that 95 percent of all attempted log-ins or searches were able to be completed.
Patel said the weekend and Cyber Monday represented a passed test for e-commerce, with more surges in traffic in store.
"Many experts are predicting that the heaviest online shopping day is yet to come, much closer to December 25," Patel said.