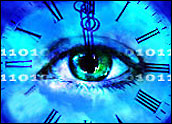 The National Football League and e-commerce have a lot in common. Sure, one has a lot more 300-pound linemen and guys who can run 40 yards in less than five seconds, but in both cases, it almost always comes down to the last five weeks of the year.
Sure, each NFL team plays 16 games, and e-commerce stores are open for business 24/7/365. But, in football as in e-tail, if you win in December, your year probably will be a successful one. The converse is also true: Fall flat on your face in December, and you'll be watching the Super Bowl from your easy chair.
So imagine the outrage if an NFL team showed up for a game in December and discovered it didn't have enough players, or the right players, to match up against the opponent. Maybe it was a failure of scouting, maybe the team underestimated its opponent, or maybe it just blew off preparation altogether.
That's what must have happened to some of the biggest e-tailers in the United States during the first busy days of holiday shopping after Thanksgiving. Some had Web sites that were balky — not responding to clicks, crawling through tasks so slowly that shoppers no doubt gave up in droves. The only question remaining is: Was it a failure of ignorance or arrogance?
Stuck in the Middle
As usual, the answer probably isn't black-and-white. It's hard to imagine even a retailer that routinely beats its competitors to a pulp failing to make sure its Web site would be available and easy to navigate on one of the most important shopping days of the year. And it's hard to imagine anyone involved even peripherally in e-commerce not being aware of the options available for load-testing, usability testing and the like.
More likely, those e-tailers had opportunities to make significantpreparations — to beef up what they believed were already pretty beefy bandwidth reserves, or to strip out extraneous gobbledygook from their Web sites, no matter how pretty it looked, to make sure dial-up users did notfall asleep waiting for a sweater image to load.
They probably thought they were prepared. But not in an arrogant, boastful way, the way a playoff-bound team might get tripped up by a 2-10 team playing for pride and a draft pick.
Processing. Please Wait
They were probably just acting prudently, conservatively, guarding whatever IT funds they have until those funds were well and truly needed. But there's the problem, and it's the same one that comes up in the network security discussion: By the time you discover you need additional resources, it's probably too late to deploy them.
The amount of goodwill lost on Black Friday is impossible to measure butprobably isn't nearly as bad as it seems. Sure, people get aggravated when Web sites are slow, and they might curse an e-tailer under their breath. But people are also brand-loyal creatures of habit through-and-through. The overwhelming majority will be back.
Which is too bad, in a way. Second chances sometimes have a way of making the first mistake seem okay, like it was something that just happened — nothing worth worrying about. Of course, that's not the case. The damage might have been minimal this time, but back-to-back losses in the critical month of December can send a team home early.
---
Note:
The opinions expressed by columnists are their own and do not necessarily reflect the views of the E-Commerce Times, its management or parent company ECT News Network, Inc.
---