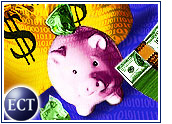 Online shoppers joined their real-world counterparts in roaring out of the gate as the official holiday shopping season began in the days after Thanksgiving, setting up e-commerce to exceed already lofty estimates for growth, according to reports.
Nielsen//NetRatings reported that online retail sites saw traffic jump 28 percent on Friday compared to the same day a week earlier. The research firm's holiday e-commerce index, which measures traffic to 112 retail Web sites, found that consumer electronics retailers enjoyed the biggest gains, with traffic nearly tripling, logging a growth rate of 187 percent over the previous week.
Meanwhile, comScore reported that online sales came in at US$200 million on Friday alone, up 36 percent from so-called Black Friday in 2002. For the entire week, comScore said, sales rose 31 percent to more than $1.2 billion.
Fast Start
Research firms said the early surge in sales and traffic bodes well for the season in general. In past years, many online shoppers have waited, with the second week in December often proving the busiest for buying online.
Meanwhile, brick-and-mortar retail sales showed strong early sales figures, with U.S. shoppers spending more than $7 billion in stores on the day after Thanksgiving. Those factors combined might help e-commerce beat even optimistic forecasts.
For instance, Forrester has predicted that online holiday sales will grow by 42 percent and top $12 billion for the first time ever.
"In the past, e-commerce grew regardless of what happened offline," Forrester Research analyst Carrie Johnson told the E-Commerce Times. "With e-commerce now more mainstream than ever, strong offline sales are probably going to mean a boost to what happens online as well."
In fact, Johnson said one trend to watch this season will be the competition between online and offline retailers, something that happened little in the past. One outgrowth will be expanded free shopping offers from Web retailers, she added.
Big Toys, Little Toys
While Web shopping usually dies down several days before the holidays because of shipping concerns, Nielsen//NetRatings Director of Commerce Analytics Robert Leathern said the best days for online buying in 2003 remain ahead.
"Retailers recognize the Friday after Thanksgiving as the official start of the holiday shopping season, and this year online retail Web sites saw similarly brisk Internet activity," he said. "From past years' data, we expect even more consumers to flock online in the coming days and weeks."
With consumers more confident about the economic future than in past years, relatively frivolous purchases appear to be more in fashion this year, with luxury e-tailers, consumer electronics sellers and, as usual, toy sites, poised to have the best seasons.
Retail sites have been gearing up to meet the shift in demand for some time. Amazon.com launched its jewelry store just in time for the holidays and Yahoo rolled out a shopping search feature that combines popular comparison shopping features with search technology.
Warning of Worries
The only yellow caution flags flown to date have been those from the Business Software Alliance, which said that even though the shopping season is likely to be a strong one, it could be better if not for the security and privacy concerns of many shoppers.
The BSA commissioned a survey that showed that the majority of Web users remain concerned about giving their credit card and other personal information over the Web.