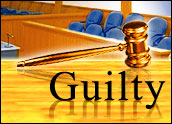 A spammer is going to prison, thanks to a ruling by a divided Virginia Supreme Court. The state's high court on Friday upheld the first felony conviction for illegal spamming in the U.S. when it ruled 4-3 that Virginia's antispamming law did not violate the free speech rights of Jeremy Jaynes.
"This is a historic victory in the fight against online crime," said Virginia Attorney General Robert McDonnell. "Spam not only clogs e-mail in-boxes and destroys productivity; it also defrauds citizens and threatens the online revolution that is so critical to Virginia's economic prosperity."
Friday's ruling proves that Virginia's statute has teeth, McDonnell added. "Thanks to the Virginia Anti-Spam Act, we now have the tools to go after spammers and put them behind bars." All 50 states have antispam laws.
Not a Slam-Dunk Ruling
The narrowness of the decision indicates that it wasn't a slam-dunk, said Ari Schwartz, vice president of the Washington-based Center for Democracy and Technology.
"In general, the courts have provided slightly less protections for commercial speech than for political and other kinds of speech, so it's not terribly surprising to hear a court uphold this but also that it was somewhat controversial," Schwartz told the E-Commerce Times. "When you just hear the headline saying that a spammer conviction was upheld and see a 4-3 ruling, the first thing you think is spam isn't speech. But if it's just about misleading commercial speech, it wouldn't be entitled to First Amendment protection.
"But if commercial speech is not fraudulent, there might be other questions about where the lines would be," he added.
In November 2004, a jury in Loudoun Circuit Court in Virginia convicted Jaynes, of Raleigh, N.C., on three counts of violating the state's antispam law and sentenced him to nine years in prison. It was the first felony conviction in a spam case, according to the state's attorney general's office.
Crossing the Felony Threshold
Jaynes, who the attorney general's office describes as the eighth-worst spammer in the world on the Spamhaus Project's Registry of Known Spammer Organizations, was accused of employing aliases and bogus Web addresses in high-volume spam mailings that pushed various phony products.
Prosecutors argued that Jaynes, using AOL's Virginia-based private network, peddled products to unsuspecting victims worldwide. Prosecutors also said Jaynes made millions of dollars on the fraud.
Virginia's antispam law prohibits the sending of unsolicited bulk e-mail by fraudulent means, such as changing the header or routing data to prevent recipients from contacting or determining the identity of the sender.
Breaking the law qualifies as a Class 6 felony if:
the volume of spam transmitted exceeds 10,000 in any 24-hour period, 100,000 in any 30-day time frame or 1 million in a year's time;
revenue generated from specific spam exceeds US$1,000 or total revenue from all spam transmitted to any Internet service provider exceeds $50,000; and
the defendant knowingly hires, employs, uses or permits any minor to assist in the transmission of spam.
Prosecutors brought evidence of 53,000 illegal spam transmissions Jaynes had sent in a three-day period in July 2003.
Not a First Amendment Issue
"This decision is a very good thing for the fight against spam," John Palfrey, executive director of Harvard Law School's Berkman Center for Internet and Society, told the E-Commerce Times.
"I'm a strong believer in the First Amendment, but there is a point where the First Amendment doesn't protect criminal activity. Enforcement has been hard to do and, to the extent that people have been dissuaded [from breaking the law] has enforcement has been hard to do and to the extent people have been dissuaded, it has been very low," he noted.
Jaynes' attorney, Thomas Wolf, reportedly said the ruling whittled away at speech rights.