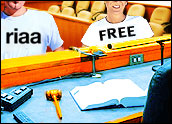 Is it 2005 or 2010? That's what many music industry observers may be asking themselves after U.S. District Court Judge Kimba Wood ruled Wednesday that online file-sharing software provider LimeWire has been infringing on the copyrights of creative artists in general, and recording industry companies, specifically.
The LimeWire company and, perhaps more surprisingly, the software's creator, Mark Gorton, are liable for as-yet unspecified damages on a number of copyright-related claims, according to the decision.
Citing previous rulings against Grokster and the infamous Napster file-sharing network, Wood said that expert evidence in the case shows that over 90 percent of the material shared through LimeWire was covered by copyright protection, and that LimeWire not only did nothing to prevent copyright violations but also "encouraged" its users to infringe on copyright owners' rights.
Damages have not been set; the parties are scheduled to meet with the judge on June 1.
Here and Gone Again
At first blush, the ruling may seem relatively straightforward. After all, courts have made these calls before, and the fact that this particular case has taken four years to make its way through the system has little impact on illegal music file-sharing. In fact, the LimeWire service was established in 2000 and is in the generation of companies of which Grokster and the old Napster were a part.
Despite the repeated rulings, though, music-sharing seems to be a persistent, if illegal, way of building up one's music library for a large segment of the online population. The sharing sites simply morph into one another.
"Will a blow to a P2P network result in more users of legit services? It's not totally clear because, as we know, as one P2P service goes down, another springs up," Josh Martin, senior analyst with Strategy Analystics, told the E-Commerce Times.
The "Free" Internet vs. Copyright
The Recording Industry Association of America (RIAA), which represents many of the recording companies involved in the suit, was quick to laud the court's decision. The ruling represents "an extraordinary victory for the entire creative community," said Mitch Bainwol, RIAA chairman and CEO.
Still, a range of consumer advocacy organizations filed a joint amicus brief with the court that, in essence, argues against shutting down LimeWire. That group includes the Center for Democracy and Technology, the Electronic Frontier Foundation, and the Special Libraries Association.
The Special Libraries Association makes the point that P2P file-sharing software enhances creativity both in the creation of the software itself and in the way it facilitates communication, SLA Chief Policy Officer Doug Newcomb told the E-Commerce Times.
The SLA would have liked to see the ruling come down in a way that protected the rightful owners of copyrighted property but still allowed the software to be created and distributed, he explained.
LimeWire declined to comment for this story, referring to a statement made by CEO George Searle: "LimeWire strongly opposes the Court's recent decision. LimeWire remains committed to developing innovative products and services for the end-user and to working with the entire music industry, including the major labels, to achieve this mission. We look forward to our June 1 meeting with Judge Wood."