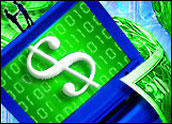 Inflationary pressures appeared to ease in June over the preceding month, with the Labor Department today reporting that consumer prices rose a modest 0.3 percent, half the rate of May.
The core inflation rate, which ignores fuel and food costs, rose only 0.1 percent in June, half what analysts had expected and again half the jump it took in May. The June increase in the core rate was the smallest since last December.
The markets, which have been watching the numbers closely as a tip to how the Federal Reserve Board will approach its expected increases in interest rates, seemed mixed on the numbers.
After the data was issued, bond prices surged, with the 30-year U.S. Treasury bond up nearly a full point, and the dollar fell against the euro. By late morning, the Dow Jones Industrial Average was up 8.84 points and the Standard and Poors 500 was down 1.32. The Nasdaq was down 17.27.
Inflation Rising
So far this year through June, consumer prices have risen at an annual rate of 4.9 percent, compared with a 1.9 percent rise for all of last year. Core prices have risen at a rate of 2.6 percent so far this year, compared with a 1.1 percent increase for last year.
Also this morning it was reported that the University of Michigan's consumer sentiment index rose slightly to 96.0 in July from a final reading of 95.6 for June.
The big jump in energy and food costs caused the May figures to spike. While those costs rose in June, they did so by a lower rate than in the preceding month.
The report today on the Consumer Price Index showed energy prices rose by 2.6 percent in June, down from a jump of 4.6 percent in May. It noted that gasoline prices in June increased by 3.1 percent, far less than the 8.1 percent jump in May. Natural gas and fuel oil prices both rose by 4.4 percent last month. Electricity prices went up by 1.1 percent.
Whole Prices Down
Food prices, which rose in May by 0.9 percent, partly because of more expensive transportation costs due to higher fuel costs, rose by just 0.2 percent in June. Falling fruit and vegetable prices balanced off against higher prices for dairy products, pork, poultry and beef and veal.
The CPI report also indicted that medical care costs rose by 0.3 percent in June and that college tuition and fees jumped by 0.6 percent.
The news on the Consumer Price Index follows the announcement yesterday that wholesale prices actually fell by 0.3 percent in June.
On June 30, the Federal Reserve raised short term interest rates a quarter percent, from a 46-year low of 1 percent to 1.25 percent.
Federal Reserve Outlook
Yesterday, Fed Governor Susan Bies said in a speech in Chicago that the Fed needed to "be alert" to potential inflationary pressures.
At their June meeting, Fed policy-makers said: "Although incoming inflation data are somewhat elevated, a portion of the increase in recent months appears to have been due to transitory factors."
The board said members expect underlying inflation "to be relatively low."