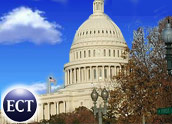 Besides working overtime to crank out the US$700 billion financial market rescue plan — to little avail as it turned out — the House of Representatives on Sunday also passed a piece of legislation that could rack up significantly more penalties for copyright violation.
The Prioritizing Resources and Organization for Intellectual Property Act, or PRO-IP Act, would give more firepower to the Recording Industry Association of America and other groups that represent content holders.
Last week, the Senate passed the Enforcement of Intellectual Property Rights Act of 2008, which contains the same provisions.
New Rights?
Besides increasing penalties for copyright offenses, the bill gives courts in civil cases the right to seize "any property used, or intended to be used, in any manner or part" in the commission of copyright offenses.
The legislation describes circumstances under which courts can impound business records associated with an alleged infringement before trial, and it increases funding at all levels of law enforcement to help with intellectual property investigations.
Along the way to passage, the bill lost one of its more controversial provisions — an earlier version would have deputized the U.S. Department of Justice to prosecute civil lawsuits. However, the bill does carve out new enforcement mechanisms in the government regulatory apparatus by creating a new White House post: intellectual property enforcement coordinator, or, as it has been referred to in the press, a "copyright czar."
The need for these provisions is clear, given the level of illegal peer-to-peer content-trading taking place over the Internet, argue proponents.
Critics maintain the bill tilts an already-uneven playing field even more to the copyright holders' advantage.
In the Middle
The bill needs the President's signature before it becomes law, and the Bush administration has indicated that a veto might be forthcoming. The White House has opposed the legislation, arguing that its establishment of a new office in the executive branch would be an unconstitutional violation of separation of powers.
However, even if the bill should survive a veto, it would be a wash, Randy M. Friedberg, partner with Olshan Grundman Frome Rosenzweig & Wolosky, told the E-Commerce Times.
For starters, most of the bill focuses on trademark law and criminal copyright violations, he noted. Courts are already empowered to seize property in civil cases, he said. "All it did was clarify rights the courts already had."
Granted, it is a scary-looking bill from a defense attorney viewpoint in that people such as Jammie Thomas could find themselves on the hook for even more penalties, Friedberg acknowledged. Thomas, a 30-year-old single mother from Minnesota, was hit with a US$222,000 penalty for copyright violations in a lawsuit brought by the RIAA. Her case is far from settled, though, and she faces a new trial.
What's perhaps more interesting than what the bill includes is what it omits, commented Friedberg.
"It didn't address the fundamental point of whether she infringed by making the music available," he said.
Right now, copyright owners such as the RIAA are somewhat on the defensive, due to recent rulings finding that making music available for online sharing doesn't necessarily equate with infringement. The law doesn't address that issue, Friedberg said. "This is not a game changer for the RIAA."