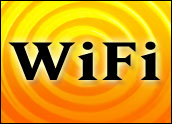 Comcast is rolling out a neighborhood WiFi initiative designed to allow its Xfinity Internet subscribers to log in to nearby wireless hotspots outside of their home.
Subscribers to the service will essentially be the hosts for two separate WiFi networks. One will be their private and secure home connection. The other signal, which Comcast would provide for free, would serve as a neighborhood signal that could be shared by other users, such as guests of the home or other Xfinity users who happen to be looking for a WiFi connection nearby. Those users would use their own login information to access the service.
Keeping the networks separate would not only protect the security of the more private line, but also ensure that subscribers' personal connections wouldn't be slowed down due to network congestion.
Comcast has been testing the initiative in several areas on the East Coast, including the Washington, D.C., metro area. About 100,000 customers are already using the service.
Only available to Xfinity subscribers, the service is part of the Comcast's overall strategy to deliver more wireless access both inside and outside of users' homes.
Making It Work
If successful, Comcast's plan could be a popular way to increase customer access to WiFi and keep those customers at Comcast, said Ritch Blasi, senior vice president of mobile and wireless at Comunicano.
"This is a good way to foster loyalty with their current customers by extending broadband service outside the home or business," he told the E-Commerce Times.
It's especially important for Comcast to foster that loyalty. Demand for wireless access is increasing, and several cable, satellite, wireless and Internet service providers are scrambling to fill that need, said Rob Enderle, principal analyst at Enderle Group.
"If it works, it should be very popular," he told the E-Commerce Times. "If they can get the infrastructure in place, they can challenge with VoIP technology and underprice the telephone companies with a technology that can approach the mobility of 4G but at a far lower price."
That's only if the company can execute a seamless implementation, though, which could be difficult, Enderle observed.
"Maintaining quality and bandwidth will be an increasing problem — and unlike the cellphone companies, the WiFi hubs are mostly not under Comcast control," he pointed out. "This could give customers very uneven quality, but they should have a cost and price advantage that is significantly offsetting this."
Expanding WiFi's Reach
Like many cable operators, Comcast has already rolled out public WiFi services in spots such as cafes, shopping areas or train platforms, and that trend is only going to continue, said Blasi.
"Coverage is king in wireless," he noted.
Comcast seems to understand that, said Enderle.
It knows that offering as much coverage as possible is key in this industry, and the companies that can offer that bandwidth, as well as being willing to be flexible with their wireless plans, are going to be the ones that end up as key players, he explained.
"It certainly shows that cable companies have a way to fight back — and should if they don't want to become obsolete," suggested Enderle.
"This battle is far from over, though, and either the cable or telephone companies are likely to be a casualty … in a few years and, I expect, both know this. Comcast is playing the long game, but if they don't, they are likely out of business in five to 10 years."