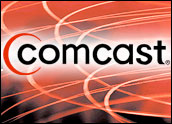 Comcast is teaming up with Twitter to launch a new feature that will allow Twitter users to tune into live TV shows via the social network, making the site a go-to spot for television conversations and viewing.
Dubbed "See It," the feature unveiled Wednesday allows Twitter users to control their set-top viewing with the click of a button marked "See It" that will be displayed on the content distributor's tweet about the show.
For instance, NBC might tweet about the latest Sunday Night Football game. A See It button would appear beneath the post. Users will be asked for their cable user name and password upon clicking the button. After logging in, they can then watch live TV, either via their set-top box or on a mobile device.
Users also have the option to set the DVR to record a certain show or, if they're on their mobile devices and see Twitter chatter that sparks their interest in the show, they could set a reminder to watch it at a later time.
As of now, the service will be available only to Xfninity TV users for shows that appear on the Comcast-owned NBCUniversal. That means users can tune to popular NBC shows like The Voice and the Today Show as well as news and shows from channels including CNBC, Bravo, E! and the Esquire Network. Sports will also be included in See It — viewers will be able to watch Sunday Night Football, The Golf Channel, Premier League Soccer and the upcoming winter Olympics, which will be broadcast on NBC.
Going forward, Comcast said it hopes it can partner with other websites, content distributors and networks so that See It can facilitate conversation and buzz about TV shows and events on other networks as well. Partnerships with additional video distributors could come in early 2014, it said.
See It will start rolling out incrementally in November. Neither Comcast nor Twitter responded to our request for further details.
'A Promotional Tweet on Steroids'
The deal has the potential to be a winner for all. Consumers, of course, will have greater access to TV shows and could tune in even away from their living rooms.
More importantly, it is the stepping stone for networks to turn tweets about shows into digital consumption, said Renaud Fuchs, director at Alvarez & Marsal Europe LLP. Twitter is becoming the second screen where users converse in 140 characters about the latest season finale or playoff game, and that's helping to draw advertisers to the platform, the company noted in its recent IPO filing.
So far, though, it's been unclear how those tweets are helping drive revenue for networks.
"The first step with the content providers was to notice that there is conversation about their shows," Fuchs told the E-Commerce Times. "The second step was to buy promotional tweets and keep people talking.
"Now, this third step with See It is like a promotional tweet on steroids," he added. "Not only can consumers talk about the show, but they can use that tweet to switch on their TV or view media."
In addition, Comcast is adding much-needed value to a paid TV subscription, said Colin Dixon, chief analyst and founder of nScreenMedia.
"This is a win for Comcast in that it can be a value-add for subscribers, with the ability to log on via mobile devices or set the DVR, for instance," Dixon told the E-Commerce Times. "It's a way of reinforcing the value of the paid TV subscription, which is being eroded with the emergence of Netflix and other similar services."
'A Win-Win-Win'
See It is also a potential revenue driver for Twitter, Fuchs pointed out.
"Twitter is becoming known as the virtual water-cooler to talk about TV, and the company recognized the value in that, but it also wanted to be more in control of consumer habits," he explained. "This puts the power in the hands of the social network to tell broadcasters that they can help drive an audience. This is exactly what Twitter wants to be able to prove for its monetization strategy moving forward."
Between that monetization potential and Comcast's desire to inject itself into the rapidly changing TV landscape, See It could be a popular application on several sites going forward, Dixon suggested.
"As it stands, this might not drive people to subscribe to paid TV if they haven't already," he noted. "But this still has the potential to be a win-win-win for everybody — the consumers, the networks and Twitter. Comcast is saying it wants to promote this feature within the industry, and there's no question that we're going to see the See It button show up in other places."