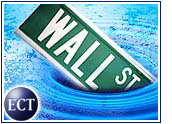 CNET Networks (Nasdaq: CNET) was down 83 U.S. cents at $11.90 in morning trading Wednesday after reporting aquarterly loss and revenue drop, which the provider of online informationand services for the technology industry blamed on a weak advertising market.
"The technology marketplace is under short-term pressure, and ourfirst-quarter results reflect the challenges that our marketing partners arefacing," said chairman and chief executive officer Shelby Bonnie.
Revenue for the first quarter ended March 31st fell to $75.2 million from apro forma $92.8 million in the same period last year. Pro forma resultsincorporate the operations of ZDNet, which CNET acquired in October 2000.
The loss before interest, taxes, depreciation and amortization widened to$11.7 million from $6.7 million a year earlier, while the net loss grew to $316.6 million,or $2.33 per diluted share, from a pro forma loss of $167.5 million, or $1.31, a year earlier.
Latest-quarter results included a non-cash charge of $113.2million for the writedown of investments that declined in value, along witha $4.7 million charge for job cuts and ZDNet contract terminations.
CNET said that it expects second-quarter revenue of $70 million to $75 million,with a loss before interest, taxes, depreciation and amortization of $12million to $20 million.
Full-year revenue will likely total $310 million to$328 million, resulting in an EBITDA loss of $29 million to $55 million.Reports said that those figures are below earlier projections.
CNET said it reached more readers and delivered more leads to merchantsduring the quarter. The company also said it reduced costs by 15 percent duringthe quarter through job cuts, lower marketing spending and the elimination ofunprofitable businesses.
"We are realistic about the short-term environmentand optimistic about our future," said Bonnie, adding that the company willcontinue to manage costs throughout the year.