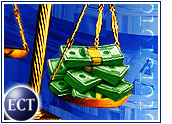 After spending years in sell-off mode, Internet-era darling CMGI has returned to bullish acquisition mode, saying it will pay a combination of cash and stock worth approximately $230 million to acquire supply chain management firm Modus Media.
CMGI said the deal also highlights a return to its original focus on supply chain services and technology — a focus that got lost in the fog of the dot-com boom, when the incubator backed everything from online auction sites and interactive advertising companies to online furniture retailers.
With Modus on board, CMGI said its companies will have annual revenues of close to$1 billion and will have global reach, with Modus providing an entry into thepromising Chinese market.
Eyes on China
CMGI CEO George McMillan said the deal gives his company "the boost it needs to expand its global market." Modus products will be teamed with CMGI's SalesLink, which already provides supply chain services to such companies as Sony and Cisco.
Modus, headquartered in Westwood, Massachusetts, focused on gaining a foothold in China early on and now operates five facilities there, providing services to several makers of laptop computer parts and accessories.
CMGI indicated it intends to keep all 25 of Modus' facilities open. Additionally, the company will keep all of Modus' 3,500 full-time workers on the payroll for the time being, though it did not rule out searching for overlap after the deal closes later this year.
Outsourcing Move?
IDC analyst Ned May said the purchase puts CMGI in a position to capitalize on two hot trends — outsourcing and offshoring. More companies are realizing there are savings to be had by hiring companies to handle finishing, packaging and shipping of their products, and some are seeking even bigger savings by opting to contract the work overseas.
"The outsourcing trend is one that's got a long time to play itself out," May told the E-Commerce Times. "Take out the controversy and take away the rhetoric around it, and it makes business sense in a number of industries, especially information technology. That's why it's going to keep happening."
Back to the Future
CMGI, which invested heavily in doomed pure-play dot-coms like Furniture.comand MotherNature.com, saw its stock tumble along with the Nasdaq startingin the spring of 2000, from a high of $160 to the $1 level.
Since then, the Charlestown, Massachusetts-based company has been busy selling offor shutting down companies it believed were not essential to its core mission going forward. The most recent fire sale came when pioneering search engine AltaVista was sold for $140 million.
Deal Time
The latest deal calls for CMGI to swap stock worth about $160 million and pay another$73 million in cash to wipe Modus' books clean of accumulated debt.
Although the size of the acquisition keeps it out of the blockbuster category, it does underscore a worldwide trend of consolidation, particularly in the technology industry but across many other sectors as well.
According to a recent report from Dealogic, global M&A activity in the first two months of 2004 was at its highest levels since mid-2000. Some $459 billion worth of deals took place — more than double last year's rate.
Morningstar analyst Todd Bernier told the E-Commerce Times that deals like the CMGI buy underscore just how favorable the climate is for acquisitions and mergers. He said it makes sense that companies with a strong presence in China could become takeover targets.
"Breaking into that market isn't easy," Bernier said. "If a company has already done the legwork, it immediately drops otherwise high barriers to entering a promising market."
And even though CMGI's stock has been trading around the $2 level, he noted, the company still can be a buyer in an uncertain market. CMGI shares were up more than 2 percent to $2.14 in early trading Thursday.