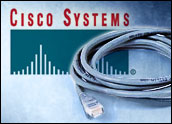 Cisco Systems on Monday announced plans to acquire Riverhead Networks, a privately held provider of technology that could help prevent distributed denial-of-service (DDoS) attacks on corporate networks, for US$39 million in cash.
Riverhead's technology will enhance Cisco's suite of integrated security products by providing behavior-based protection. This threat-prevention approach can eliminate attacks by identifying malicious network behavior.
"Riverhead adds to Cisco's extensive product portfolio that enables our enterprise and service provider customers to build secure, resilient, and intelligent networks with high performance and scalability," said Luca Cafiero, senior vice president of Cisco's Switching, Voice and Storage Technology Group.
Driven by Network Security Needs
Riverhead's DDoS solution works by comparing traffic flows with learned profiles of normal traffic patterns, behavior and protocol compliance to identify and mitigate a broad range of security attacks.
It augments Cisco's defenses by deploying proactive, self-defending and self-healing networks and by building advanced security into network infrastructure. The acquisition should give Cisco end-to-end, multilayered, integrated security defense.
"Cisco is recognizing … that fighting DDoS is such a prevalent need in their customer installed base and permeating their own distribution channel. They are all about customer satisfaction first," according to Louis Columbus, a senior analyst at AMR Research.
Columbus said in an interview with the E-Commerce Times that even in the toughest of times, Cisco has executed well on mergers and acquisitions. "This gives Cisco a great opportunity to go after DDoS and take on a very critical concern in its own customer base as well as look for upsell opportunities," he said. "This is a company that is among the best in the world at taking software that is a differentiator and burning it into firmware."
Appeal to VC Community
In an indirect way, Cisco's acquisition of Riverhead substantiates how the venture capital community has felt about the need for hardware and software to combat global DDoS attacks, according to Columbus. He noted that the VC community is solidly behind such solutions, which are focused on ensuring enterprise-wide security.
"They love it," he said. "The folks doing acquisitions at Cisco know what the going multiples are, and there is a great deal of liquidity in their stock. All Cisco really needed was distribution — a large installed base — and this is even better than [the recent acquisition of] Linksys for them. This permeates every piece of strategy for Cisco — where Linksys was the SMB market, Riverhead will touch everything in their product strategy.
"You've got to hand it to them," Columbus added. "They know how to ferret out these small companies and offer a lot of differentiation. They will roll this into firmware and become a differentiator."
Focus on Advanced Technologies
As Cisco broadens its range of products, it seems likely the company still may be in acquisition mode. However, Cisco spokesperson Elizabeth McNichols told the E-Commerce Times: "We already have a pretty extensive security portfolio. We have recently identified six areas of advanced technologies: home network, IP telephone, storage, wireless, security and optical."
Cisco recently agreed to purchase Twingo Systems for $5 million in cash. Twingo provides computer desktop security software. Cisco also completed its acquisition of The Linksys Group in June 2003 for common stock valued in excess of $500 million.
The Riverhead acquisition, priced at $39 million in cash, is expected "to be finalized sometime in Q3, the end of April 2004," McNichols said. Cisco already owns about 10 percent of Riverhead through prior investments. Riverhead will become part of Cisco's Internet Switching Business Unit at the close of the acquisition, and its products will be sold through Cisco sales channels. Riverhead, founded in 2000, has approximately 44 employees and is based in Cupertino, California.