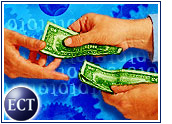 Venture capital commitments ended 2003 on an up note, with the fourth-quarter amount raised closing at US$5.2 billion. That amount represented almost half — 47.8 percent — of the total amount raised in all of 2003.
The National Venture Capital Association (NVCA) reports that for the full year, funds raised $10.8 billion in 2,715 companies, a level not seen since 1995. Investments for 2003 of $18.2 billion represent a 15 percent decline from the $21.5 billion invested in 2002. However, that decrease is seen as small, compared with decreases over the last three years, according to the NVCA.
Amity Wall, manager of research operations at VentureOne, told the E-Commerce Times that the latest quarter-to-quarter uptick indicates an increase in stabilization.
Investments Level
Meanwhile, investments in venture capital of $4.9 billion during the fourth quarter surpassed third-quarter totals of $4.4 billion.
Although the pace of investment quickened in the fourth quarter, Wall said, "if you compare year to year, investments in 2003 are still lower than 2002, but it remains consistent, around $4 billion the last several quarters. The industry [has] more right-sized itself at this level and won't expect to see further fall."
NVCA's research similarly sees venture capital settling down at a comfortable, sustainable level, with consistent levels of quarterly investing throughout 2003.
Sector Strength
The life sciences sector, composed of biotechnology and medical devices companies, continued to outpace other industry sectors, attracting 27 percent of all venture capital in 2003. This is the highest proportion directed to life sciences in the last 12 years, according to the NVCA survey.
Healthcare also attracted a larger portion of the investment pie, specifically in biopharmaceutical companies. VentureOne's Wall told the E-Commerce Times that biopharmaceuticals was the only industry segment that received more than $1 billion in investment in the fourth quarter, with 137 rounds totaling $1.7 billion.
"What's significant about that is it was the second quarter in a row biopharm outpaced software," Wall said. "Historically, dollars and deals go into both sectors, but software always leads for both. Software still leads for deals."
The software category captured $3.6 billion for full-year 2003, about 20 percent of all investment, well in line with historical norms for the category. Biotechnology followed closely with $3.4 billion.
Investment in both the telecommunications and networking sectors dropped, by $2 billion and $1.7 billion, respectively, in 2003. Semiconductors held steady at $1.2 billion, or 6 percent of 2003 investing, NVCA reports.
Window Opening
Meanwhile, buyout and mezzanine funds almost tripled in the fourth quarter of 2003, when just 20 funds raised $13.1 billion, compared with the third quarter of 2003, when 23 funds raised $4.7 billion. "The buyout and mezzanine world is much more tied to values in public markets, which have shown strong performance over the last couple months," NVCA vice president Jeanne Metzger told the E-Commerce Times.
Overall, combined private equity, including venture funds plus buyout and mezzanine funds, showed a small short-term improvement. For the first time since the end of 2000, they reflected positive one-year performance, with a 1.3 percent return for the 12 months ended September 30, 2003, compared with a loss of 6.2 percent in the 12 months ended June 30, 2003, according to the NVCA.
Now, of course, the question is: Will the optimistic finish to 2003 make it easier to raise new funds again?
"What would make it easier is if we start to see an increase in exits," Wall said. "With 13 venture-backed IPOs in the fourth quarter after an absence of them in the first quarter, we're seeing a window starting to open that will contribute to venture capital firms' ability to raise funds."