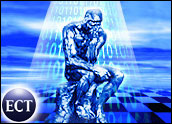 Venture capitalists may not be the heroic figures they were a few years ago, when they looked like the can't-miss swashbucklers of the business world. But they still have the power to decide whether would-be e-business superstars get a chance to seek the limelight.
Also, whereas VCs now are more likely to reject business plans that do not have all the elements of greatness, they say they are as optimistic as ever that they are helping to create the next generation of great companies.
The one difference, said Mike Krupka, a partner at Bain Capital Ventures, is scale.
"We have a lot of small companies that are growing, and others have them in their portfolios as well," Krupka told the E-Commerce Times. "The question is, how big can these businesses realistically get, and how long will it take? We now know you can only go so fast. Spending more money doesn't make you grow faster."
Mending the Trend
Perhaps reflecting these tempered expectations, venture funding fell to US$3.8 billion in the first quarter, a level last seen in the late 1990s. With life sciences and biotech firms taking a greater share of the funding pie, the amount left for tech firms is smaller than ever.
Still, some bright spots remain. Krupka's firm recently invested in Invoke, a firm that sells market research tools and services. The company came with a big advantage over the typical startup, including such customers as General Mills already on board. It also had more than a simple software-sales model, he noted, with a services and tools element that makes the business model stronger.
"Venture capitalists are optimistic by nature," Krupka said. "Everyone believes in their own children."
However, cash is being meted out much more carefully and spent far differently than during the boom days. Marketing splurges are a thing of the past, with direct sales efforts much more in vogue. The pace of hiring at startups is also much more conservative.
Meet the New Boss
Other VCs say nothing really has changed, except of course the economy. Floyd Kvamme, a partner at Kleiner Perkins Caufield & Byers, told the E-Commerce Times that longstanding firms like his have continued to abide by their investing principles during and after the dot-com boom, although a flood of new money from venture firms that popped up to ride the high-tech wave may have behaved differently.
"You look first at the market and the business, and then you see if the management team can get this company to where it wants to go," Kvamme said. "If you stick to that philosophy, the bumps will smooth out themselves."
Kleiner Perkins, a Silicon Valley firm with a track record of picking winners — Amazon.com, AOL and Sun Microsystems are among the hundreds of companies in its portfolio — remains active, but, as with all firms, on a smaller scale.
Kvamme said the most difficult transition for startups now is to reach the later stages of funding, given the difficulty of finding a lucrative exit strategy. "Before a company gets that second or third round, they're really getting a hard consideration," he noted.
IP Who?
In fact, few events could do more for the health of the venture capital industry than the revival of the IPO market. The window for new initial public offerings has squeezed so tight of late that even companies considered can't-miss candidates in other quarters, such as Orbitz and Google, have chosen to bide their time. The latest indication of how woeful the market has gotten came last week when IPO.com, which tracked the industry for years, shut down.
Although mergers and acquisitions represent a way for VCs to recoup some of their investment in a company, valuations will remain depressed without an IPO rebound, said Tracy Lefteroff, global managing partner at PricewaterhouseCoopers.
"Investors may be more willing to find a startup that is seven years away from having to think about its exit strategy than [to] invest again in a firm that is more mature," Lefteroff told the E-Commerce Times. "They're not going to let a gem pass them by, but they're more likely to pass on a flawed company and take the risk [that it might] turn out to be the next big thing."