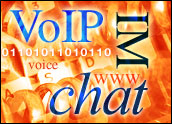 Yahoo on Thursday announced an offering that will marry its instant messaging offering with British Telecommunications' BT Communicator service, creating a call management package that integrates PC-to-phone calling, Internet call waiting and directory lookup with Yahoo's Messenger service.
Voice over Internet Protocol (VoIP) has been slow to catch on in the enterprise so far, but the popularity of instant messaging (IM) is fast changing the landscape. The Yahoo-BT offering blends the two technologies.
The announcement follows last summer's news that Yahoo had partnered with BT to offer a service called Yahoo! UK Plus, delivering Internet "essentials" to BT Broadband customers. Those offerings included an award-winning junk e-mail control feature, instant messaging service, multiple e-mail accounts, parental controls, digital photo storage and antivirus software. According to a BT press release, the Yahoo Network reaches 42 percent of the UK Internet population.
VOIP
As demand for VoIP grows, startups Skype and Vonage are being joined by big players like Cisco. Earlier this month, Cisco's Randy Pond, senior vice president of operations, processes and systems, said the move to VoIP is "where we're going to make hay." Cisco also reported that about 10 percent of all telephone calls now use the Internet in some way — but that most analysts believe nearly every call will use the Internet within a decade.
Skype, offered by UK-based Skyper Limited, is a free download, enabling free Internet phone calls anywhere in the world. Skype says more than 8 million users have downloaded its VoIP software.
Adding to industry enthusiasm over VoIP, the FCC issued a ruling on February 12th stating that "entirely Internet-based VoIP service" is "an unregulated information service." It further stated, "Internet enabled communications services are different from the public switched telephone network services, with advantages including lower cost of communications, more innovative services and features, greater economic productivity and growth, expanded network redundancy and resiliency, and enhanced consumer choice." The FCC issued a Notice of Proposed Rulemaking recognizing that Internet services should continue to be subject to minimal regulation.
Great Expectations
Worldwide, the number of Internet users continues to reach staggering proportions. Yahoo alone had 263 million unique users at the end of the fourth quarter of 2003. The company has paying relationships with nearly 5 million of those users.
Helena Maus, director of corporate communication for Yahoo, offered two reasons for optimism about the deal with BT.
"We have the proven ability to partner successfully [and] have access to alliances with SBC in the U.S. and Rogers Cable (from Rogers Communications Inc.) in Canada. We know how to be a good partner," she told the E-Commerce Times. "In addition, we have open, scalable platforms with Yahoo! Messenger. Our vision for the direction for Yahoo! Messenger will reinforce its standing as a communications hub on the Internet. It ties together all the ways we communicate, with IM, e-mail, calendar, address book and VoIP capabilities."
Instant Messaging
Many industry observers have been surprised by IM's growth since it was first popularized by America Online, allowing the real-time exchange of text comments. With corporate acceptance, pagers, cell phones and wireless access growth, IM has taken off, allowing instant communication from just about anywhere.
Sygate Technologies research shows IM use is increasing by 34 percent per year. The technology is in use in more than 41 million homes in the United States alone. In addition, it has metamorphosed from a teenage chat tool into a communication tool deployed throughout enterprises worldwide. AOL strategists recently noted that IM has a presence in 85 percent of enterprises but is supported in only 10 percent of cases. Speaking at an Instant Messaging Planet Conference, AOL noted its ICQ IM service is in use by more than 8 million active members and counts more than 175 million subscribers worldwide.
For her part, Maus cited internal data at Yahoo about the number of Messenger sessions that end in a phone call. While not able to reveal specific numbers, she said the figure is "significant enough to make this really interesting to them and us. It's a natural extension of the way people communicate."
Existing VoIP Deals
Yahoo currently offers VoIP in the United States with Net2Phone, but "not the kind of integration you will see with BT Communicator," Maus said. "It is great but a one-dimensional offering…. The broad appeal with BT Communicator is they are the installed telecom in the U.K. If you have phone service in Britain, you have BT. The base of users and scale is quite enormous. With our reach and their existence in homes, it is a tough combination for anyone to beat."
Net2Phone provides VoIP to consumers and businesses through a worldwide network of more than 450 resellers.
Although pricing for the new service has not been disclosed, Maus told the E-Commerce Times that the service will be a mix of free VoIP and for-pay premium services charged to customer phone bills, with both firms sharing in revenues.
For its part, BT on Thursday said its plans include launching three additional broadband offerings — Flexible Bandwidth, BT Rich Media and BT Remote Management System — in addition to the BT Communicator launch with Yahoo.