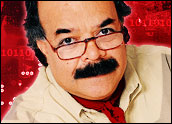 There are three locations on a Web search page: top, middle and down. A search engine report sometimes fits a single screen and at other times is a long list — about 100 feet long! — stretching over multiple pages, with each page featuring a manageable number of listings.
Therefore, a top position in a major search engine is defined as a citation on the first page or two of search results. A site occupies a middle position if it appears several pages into the results listing, say, 10 or more. A site stuck in a down position is so low that it makes no difference: It is lost in an abyss.
Today, e-commerce is like a huge ocean, very deep, wide and rough. If your web site's identity is successful, it is floating on top of the ocean and is highly visible to customers. Otherwise, it is submerged like a submarine, caught in some mysterious undercurrent — or, at worst, parked at the bottom, lying beside Titanic. Thousands of the world's best Web sites, with fancy logos and dynamic animation, simply lie useless at the bottom of this massive ocean, lost like Nemo.
This situation results in no hits, no sales and no profits.
So, we are back to location, location, location. SEO, or Search Engine Optimization, is vital, and a business had better learn to master it; otherwise, it should forget about e-commerce.
Here are a few tips for staying afloat amid the sea of results.
Know Your Starting Position
First, to be fully aware of your search result location, input your URL into a search engine. Develop a search strategy based on how many different ways your customers are going to search for you — by generic term, by location, by price or by your specific name. Test each one, plotting your position, then modifying your site until you see a difference in search results.
This is a long-term task and requires constant monitoring on various search engines. It takes time, but you will get results.
Also, try inputting your business name into a search engine and see if it pops up on the first page. If not, then it is not a name. Rather, it is a dead weight, sinking your e-commerce dreams.
If this is the case, figure out why the name is not working. Are there too many look-a-likes climbing all over your name?
Seek the Unique
To appreciate the powers of a truly great name, try searching for Sony, Kodak or PlayStation. You will see how they appear on top of the results list each time. This makes them e-commerce friendly names, in contrast to names like Quantum, Cybernetic or Weblinx, where the list is too long to fathom.
Only unique, short and simple names ensure good location on search engines.
Test your names with dozen of services offering listings in zillions of search engines. Also, try to seek expertise in web design strategies, with more emphasis on URL structures than on graphics. Optimize to maximize your hits, and monitor the changes for profitable results.
Major Rules with Quick Solutions
Follow these rules when choosing a corporate name. Consider names that are:
SEO-Friendly: Unique, cute and simple names that are without dashes, slashes or any numbers. Easy to type, easy to remember, short and clear alpha-structures, with a direct relationship to the selling proposition. This feature clears the clutter and takes the name to the top.
Alpha-Connectable: Names connecting to common language issues and having a common-sense suitability. Searching is often based on phonetics; therefore, common word sounds can play a key role. However, this strategy can be a dangerously double-edged sword, as too-simple names based on common words will be completely lost amid a sea of search engine results. This is an extremely fine line to walk.
Proprietary: Names that acquire a position in the general marketplace as one of a kind and therefore shut out all the other copycats. This is the best position to be in.
Shed Dead Weight
Only five-star-quality names can take you to the top of the page. The rest are just dead weights and will sink the site. Fortunately, it is easy to have a global name with trademark and matching URL — all you need is the right expertise. Search on the Web for corporate image and naming, then explore webinars on naming and cyber-branding issues.
Names are easy to fix once you have the right methodology, new vision and ideas on how to cope with corporate image and product-name identity issues.
In e-commerce, names are now the key. Naming is the only aspect of e-business that controls access to the entire site of a corporation. Nothing else — no logo, no design, no promotion — can help if the name is lost in search engines. It is still early in the evolution of the Internet, and a lot can be fixed, modified and adjusted before it is too late.
---
Naseem Javed
, author of
Naming for Power
and also
Domain Wars
, is recognized as a world authority on global Name Identities and Domain Issues. He introduced The Laws of Corporate Naming in the eighties and also founded
ABC Namebank
, a consultancy he established in New York & Toronto a quarter-century ago. He can be reached at
[email protected]
.
---