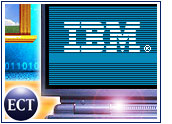 In the latest example of a small software firm with cutting-edge technology being scooped up by a big-name tech player, privately held Trigo Technologies has agreed to be acquired by IBM, where its technology will become part of Big Blue's burgeoning middleware portfolio.
Terms of the deal were not disclosed. Trigo, which is based in Brisbane, California, and is a longtime partner of IBM, has offices around the world and approximately 150 employees.
IBM said it will integrate Trigo's data synchronization software, which is used by major companies to streamline their back-office supply-chain operations, into its hugely popular WebSphere enterprise software platform.
Middle Earth
Eventually, Trigo software will be used to boost IBM's push to convince more enterprises to use radio frequency identification (RFID) to track materials and finished products through the manufacturing and retail process.
Trigo's software gathers and centralizes data about products as they move through a company's development and distribution process.
IBM vice president Steve Mills said the acquisition will enhance IBM's ability to customize middleware for companies with complicated supply-chain configurations, which in turn will enable customers to "introduce new products rapidly, improve their supply-chain operations and customer service."
New Versatility
IBM did not indicate the fate of the smaller firm's employees. However, integrating the buy should prove smooth, since Trigo has been an IBM partner for three years and has built much of its software to work within the WebSphere platform.
Gartner analyst Robert Johnson told the E-Commerce Times that firms like Trigo will allow IBM to do in-house customization of software for specific industry groups, something it has made a priority.
"IBM has a platform that works well in certain kinds of industries, but some companies are saying they need software where one size doesn't fit all," he said. That is especially true, he noted, for smaller companies that do not have the ability to customize the software themselves. "In order to make inroads in some of the vertical industries where they want to be, they'll need to be more versatile."
Buying Spree
Big Blue and its main competitors have been racking up acquisitions in recent months. IBM closed out 2003 by purchasing document-management firm Green Pasture, while Hewlett-Packard in February scooped up Consera Software and Novadigm, which analysts said had strong intellectual-property portfolios in the network automation and integration fields.
Those smaller companies, in many cases, will continue to act as independent developers, but with exclusive relationships.
"The acquisitions you're seeing show a desire to have the best technology but also in part to keep that technology off the market for others," Morningstar analyst Todd Bernier told the E-Commerce Times. "They are probably coming at a good price still, given the climate, so they make sense for companies to grab them."
Strategy Exit
Trigo was venture-backed, landing its most recent, $12 million funding round last September from a group of investors.
In a letter to customers and employees, Trigo CEO Tom Reilly said the firm will "continue on the path we have set" but now will do so with the powerful backing of IBM.
IBM also revealed in a filing with the U.S. Securities and Exchange Commission that it awarded CEO Sam Palmisano a bonus of $5.4 million for 2003.
The company said it rewarded Palmisano for his handling of "several challenges" during the year that saw IBM and many other tech firms rebound from previous lows.