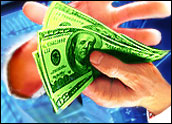 The amount of click fraud decreased slightly in the first quarter, thanks in part to actions taken by Google and Yahoo, according to the latest Click Fraud Index by Click Forensics.
The overall industry average click fraud rate was 16.3 percent in the quarter, which was down slightly from the 16.6 percent rate reported in the previous quarter but up from the 14.8 percent rate reported for the first quarter in 2007.
The average click fraud rate of pay-per-click (PPC) advertisements appearing on search engine content networks, including Google AdSense and the Yahoo Publisher Network, was 27.8 percent. That's down from the 28.3 percent rate reported for Q4 2007 and up from the 21.9 percent average click fraud rate reported for Q1 2007.
"Yahoo has been working with us since the beginning of the year, and Google is working on the problem as well, and we believe they and many others will be working with third parties to help solve this problem," Click Forensics President Tom Cuthbert told the E-Commerce Times.
Yahoo's appointment of Reggie Davis as its vice president of marketplace quality is evidence of the search engine's commitment to fighting click fraud, Cuthbert noted. "They took a leadership role by naming Reggie at the vice president level to tackle the problem and [are] taking the tack of wanting to be transparent."
Origination Points
Click fraud traffic from botnets in the first quarter was 8 percent higher than in the preceding quarter.
The greatest percentage of click fraud originating from countries outside North America during the quarter came from Monaco (3.1 percent), Ghana (3.1 percent) and New Caledonia (2.4 percent).
The Click Fraud Index, now in its third year, publishes data collected from the Click Fraud Network, a third-party click fraud detection service dedicated to helping companies more accurately monitor their online advertising campaigns for pay-per-click fraud.
Click fraud data is tracked and published on a quarterly basis for specific search providers, industries and trends. The service monitors online campaigns for click fraud by correlating data collected from search provider campaigns and the advertisers' own Web sites.
Long Overdue Efforts
Click fraud has become an epidemic, and dealing with it is long overdue, Precursor President Scott Cleland told the E-Commerce Times.
"They've been ignoring it to the point where Click Forensics said more than a quarter of all clicks were fraudulent," he noted. "If that [was] the case, then there was a problem. It was something they needed to address, but they want to address it quietly so they don't bring attention to the mess … and the rampancy of click fraud online."
The Click Fraud Index employs a methodology that is similar to spam detection, Cuthbert noted. "We have information that the search engines don't, on things that happen on the advertisers' sites. That's one reason Yahoo partnered with us."
However, the efficacy of third-party audits is sometimes questionable, noted Gartner analyst Avivah Litan.
"I'd just question how they came up with their index, because click fraud is difficult to measure," she told the E-Commerce Times. "There's no reliable source other than the search engines, and they're not going to release information."
It's difficult for a search engine to track fraud, once an ad is loaded, Litan said. "After an ad is loaded, it can be manipulated, and they don't have a good way to know it's fraud. So, I'd just question any source on that."