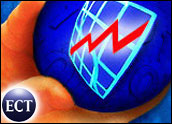 Cisco Systems (Nasdaq: CSCO) picked up 70 U.S. cents to $20.34 in morning trading Monday, following news of an agreement with China Telecom.
Cisco said it will provide more than 500 high-speed Internet routers to the Chinese telecommunications company to help it build an "information highway stretching across China." Financial terms were not disclosed.
San Jose, California-based Cisco said it will help China Telecom's ChinaNet, the largest Internet service provider in China, expand its service in more than 300 cities, allowing it to bring its services to provinces throughout the country.
The agreement builds on an alliance formed by the companies last August calling for Cisco to provide routers to help ChinaNet expand 54 "nodes" of its backbone network.
"China has put a high priority on developing its information technology infrastructure, and the Internet will play a large role in that development," said Jia-Bin Duh, managing director of Cisco Systems China. "Cisco has also made a significant commitment to the Chinese market, and we are very pleased that we have been selected to help expand ChinaNet nationwide."
After the expansion is complete, ChinaNet will be poised to further upgrade its network. The ISP already provides the fastest Internet service in the country, according to Cisco.
Cisco, the largest maker of networking equipment, said it has a share of more than 80 percent in the Asia-Pacific and Chinese markets for high-end routers. The new contract could be a boon for the company, which has warned that a slow U.S. economy could hurt results in the months ahead.
In March, Cisco chief executive officer John Chambers warned of a prolonged slump in the U.S. economy, sending his company's shares plunging.