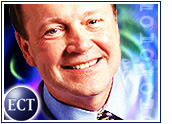 Cisco fell 69 U.S. cents to $18 in morning trading Monday, after the company's chief executive officer reportedly said that he expects the U.S. economy to remain in a slump for at least three more quarters.
John Chambers, in an interview with the Financial Times, said that the outlook has gotten worse since January, when the networking equipment maker warned of a slump in demand.
The FT report said Chambers did not warn about Cisco's profits specifically, but that he did say the company has seen the slump carry over into February and March, with the gloom spreading to Asia and Europe as well.
Cisco's latest quarterly report, released in February, showed that the company missed analyst revenue and income expectations by a penny, falling short of estimates for the first time in 15 quarters.
Net income for the quarter rose to $1.33 billion, or 18 cents per share, from $897 million, or 12 cents, in the year-earlier quarter. Revenue was $6.75 billion, up from $4.36 billion.
Chambers said at the time the company was "cautious" about the possible effects of a "brief pause" in the U.S. economy's expansion.
Cisco, the nation's largest maker of networking equipment, is considered one of the bellwethers for the technology industry. A year ago, its shares traded above $68.
Reports earlier this month that Cisco would lay off some 17 percent of its workforce sent chills throughout the stock market. The cuts, said to cover some 3,000 to 5,000 full-time workers, in addition to some contract and temporary employees, were reportedly the company's first widespread layoffs in years.