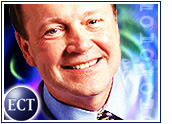 Cisco Systems (Nasdaq: CSCO) fell US$1.89 to $20.94 in morning trading Friday following reports that thenetworking-equipment maker plans to cut 5 percent of its workforce.
The cuts are a reaction to slumping sales caused by a drop in demand for thecompany's products, news reports said. Cisco and other equipment makers havebeen hurt in recent months as large telecom customers cut back on technologyspending.
Cisco's latestquarterly report showed that the company missed analysts' revenue andincome expectations by a penny, falling short of estimates for the first time in 15 quarters.
Net income for the second quarter ended in January rose to $1.33 billion, or 18cents per share, from $897 million, or 12 cents, in the year-earlierquarter. Revenue was $6.75 billion, up from $4.36 billion.
Cisco chief executive officer John Chambers said at the time the company wascautious about the possible effects of a "brief pause" in the U.S.economy's expansion.
Shares of Cisco, the largest maker of networking equipment, are down from a52-week high of $68.06, set last March.
"We remain confident about the market opportunity ahead of us over the nextthree to five years," Chambers said in announcing last quarter's results."This confidence is based on the continued impact of the Internet onproductivity, and just how much more work needs to be done before everycompany is an e-company and a majority of the world's countries aree-countries."
Chambers sent chills through the market earlier this year, when he wasreported to have sounded a cautious note about the company's near-termprospects.