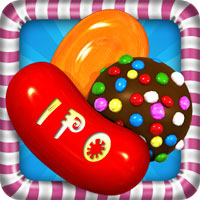 King Digital Entertainment, creator of the blockbuster social game Candy Crush Saga, is planning to go public.
The company filed its initial public offering paperwork with the U.S. Securities and Exchange Commission this week.
The company's revenue soared by more than tenfold in 2013, rising to US$1.88 billion from $164 million the previous year, the filing reveals.
Net profit stood at $568 million, a sharp rise from the $7.8 million it generated the previous year. Much of the revenue stems from Candy Crush, which launched as a Facebook title in April 2012 before King released it on the iOS and Android platforms.
In-App Purchases
Though Candy Crush is free to download, players have the option to make in-app payments to progress more quickly through the game. In December, 4 percent of monthly active users (around 12 million people) purchased virtual goods from King.
The game is played by more than 93 million people every day, according to King's filing, with more than a billion sessions played day. Since the launch of its first mobile game, Bubble Witch Saga, in the summer of 2012, King's games have been installed more than 500 million times, the company said.
Founded in 2002, King now has 665 employees.
Finding Follow-Up Success
King is striving to follow up its success with Candy Crush. It nearly quadrupled research and development spending in 2013 in an effort to diversify its lineup. King admitted some risk in the forms of high competition and low-barriers to entry in the casual gaming sphere.
For instance, Flappy Bird, a mobile game created over the course of a few evenings by Vietnamese developer Dong Nguyen, reportedly was generating more than $50,000 per day in revenue before he removed it from the App Store and Google Play earlier this month.
In the fourth quarter of 2013, Candy Crush accounted for 78 percent of King's total gross bookings, with its top three titles making up 95 percent of gross bookings in the quarter.
Candy Crush will account for a lower percentage of gross bookings in King's mobile business as it diversifies its portfolio, the company forecast.
However, if gross bookings are lower than anticipated in future periods and the company is unable to create new successful games, it acknowledged that its financial results might be adversely affected.
The company emphasized the importance of expanding its network beyond its current user base and selling virtual goods to those users.
Zynga's Problems
King's risk in going public is underscored by the problems Zynga has faced since its IPO. That company had several successful games beyond its main title, FarmVille, with much of its success stemming from its popularity on Facebook.
Zynga went public in December 2011, priced at $10 per share. However, the company struggled to move into the mobile sphere quickly enough and saw user attrition among its titles. It's now trading at $5.11, after rising 24 percent since the start of the year.
Rovio, the maker of the Angry Birds franchise, is another developer whose success rides largely on a single intellectual property, though it has chosen to remain a privately held company thus far.
Different Position
"I think King is in a somewhat different position than Zynga has been," Lewis Ward, gaming research director at IDC, told the E-Commerce Times. "Zynga has been much less successful in terms of launching successful games on smartphones and tablets. I would argue there's a different dynamic in terms of [King's] revenue. They are something of a one-hit wonder — I've tried Bubble Witch Saga and don't find it nearly as compelling." "
I suspect [the IPO] is somewhat risky," Ward continued, "because they are probably not diversified enough to be exciting to a lot of investors, but they've clearly found a way to monetize mainly adult females with microtransactions better than the vast majority of other companies in the casual consumer space."
"Consistency is a thorny issue," Steve Bailey, senior games analyst at IHS Electronics and Media, told the E-Commerce Times.
"King has shown that it can nurture one of its properties into a market leader — and done so across multiple platforms, which was a tripwire for Zynga — but, again, repeat success remains a volatile proposition," he said.
"If Candy Crush Saga swiftly loses its appeal without substitution, then King's revenues will take a massive hit, but the company will continue to operate," Bailey noted.
"It will retain a sizeable number of users across its game library, but IPO sparkle and much momentum will be lost in the process," he said.
"Cost-cutting measures will need to be introduced, albeit not on the scale of Zynga's recalibration across the past two years," Bailey added, noting that "King hasn't staffed up anywhere near to the extent that Zynga did during its acquisition spree."