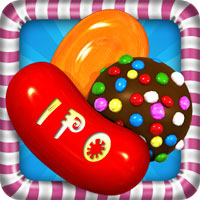 Investors didn't share the same excitement for King Digital Entertainment stock as Candy Crush fans do for the mobile game, sending King shares down nearly 16 percent in Wednesday's disappointing first day of trading. It slipped a further couple of percentage points on Thursday.
King's stock debuted at US$22.50, but dropped 15.6 percent to close at $19 — this year's worst first day drop for an IPO, according to a report from Renaissance Capital. By market close on Thursday, it had slipped to $18.49.
Investors may have been concerned that the Swedish company relies too heavily on revenue from its huge hit, Candy Crush Saga. The company brought in $567 million in profit last year and claims 97 million daily active users.
Candy Crush accounted for 78 percent of King's gross bookings during the final quarter of 2013, indicating that efforts to diversify haven't been successful.
Investors Skeptical
Investors had reason to be skeptical about King's place in the ever-changing game space, said Steve Bailey, senior analyst of games at IHS. Those potential stakeholders are likely still concerned about the company's growth beyond Candy Crush.
"King still has a lot to prove and remains exposed on a number of fronts — dependence on game genre, dependence on a sole title for the majority of revenue, and dependence on the U.S. and Europe," Bailey told the E-Commerce Times.
It also seems to be worried about the boom-and-bust cycle that can exist in the mobile game space, said Raphael van Lierop, creative director of Helm Studio.
"The nervousness around King's IPO speaks to a broader sense of the risk around these massive mobile hits, which seem to come and go," he told the E-Commerce Times.
"There's a huge amount of frivolity in the tastes of mobile games, so investing in a company where one game makes three quarters of the revenue seems a risky proposition. Also, there's little about King's history that lends credence to the idea they can replicate the success of Candy Crush Saga," van Lierop noted.
In addition to investor skepticism, the current state of the IPO market likely played a role in King's disappointing first day public, said Bharat Jain, professor of finance with expertise in IPOs at Towson University.
"The IPO market has been exceptionally strong over the last few months and in that environment some firms and their bankers get overly optimistic about the price the market is willing to support," he told the E-Commerce Times.
"In the rising market, there is always some concern among investors that later entrants to the IPO market may be overvalued, and this concern probably was reflected in the price drifting downward after the opening," Jain observed.
One-Hit Wonder Syndrome
If King wants to improve its image in the eyes of investors, it needs to show it has more cards up its sleeve, said Bailey.
One bad opening is certainly not a death sentence, and plenty of companies have survived tumultuous openings and gone on to a more fruitful time on the public market, Jain pointed out.
The volatile opening day should be a wake-up call that King needs to show investors a solid plan for the future, Jain added.
"King has to do a better job in communicating on its growth prospects — and more importantly, deliver on important growth metrics over the next few months," he advised. "If King has a viable business model and can deliver on its promises over the next 12 months, its price should improve."