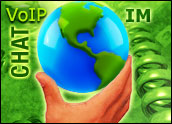 In Italy, Biesse Systems is a manufacturer of substantial size; its American subsidiary, though, is by any measure a small business, with under 200 employees. Still, Biesse America's communicationneeds rivaled that of a large enterprise. It needed to communicate with its parent in Italy regularly, and though its workforce was relatively small, it was spread across six offices in the United States.
The company decided that a unified communications system would not only lower communications costs, but also address such non-quantifiable issues as customer satisfaction. Biesse America looked at five vendors and then chose Cisco Unified Communications, IT Director Charlie Schulz told the E-Commerce Times.
The company now saves between US$5,000 and $6,000 per month on telephone bills, Schulz estimated, plus an additional $5,000 to $8,000 per month on travel costs because the system is integrated with WebEx.
It's easily configurable so other devices and applications can be integrated when necessary, he added, a plus for the company's lean IT department, which consists of one staffer.
There has also been an increase in customer satisfaction since the platform was implemented, Schulz noted. "It shouldn't be surprising — customers are able to reach sales and support much faster now."
Pain Points
As an SMB, Biesse America was certainly not alone in experiencing communications problems; where it was in the minority, though, was in its adoption of a UC platform. Certainly, there are SMBs that deploy products from Avaya, Cisco, NEC, Nortel and Mitel, but users are more typically larger enterprises.
There is an obvious need in the SMB space for a sophisticated communications platform, suggests a global study carried out by SIS International Research on behalf of Siemens Enterprise Communications. Approximately 70 percent of SMB respondents said they spent 17.5 hours each week addressing the pain points caused by communications barriers and latencies.
While SMB awareness of unified communications as a solution is rising, the research indicated that nearly 60 percent of SMBs do not currently employ one.
In hard costs, companies with 100 employees could be losing more than $500,000 each year by not addressing these communications issues, according to the study. The lack of a UC platform can manifest in inefficient internal coordination. Staffers may experience work delays while they wait for critical information and find themselves dealing with lower priority calls and voicemails instead. Customers may complain about inaccessibility and barriers to collaboration.
Current Economy
This situation appears to be changing — ironically, spurred by the current economic environment, Sanjeev Aggarwal, a partner with Hurwitz & Assoc., told the E-Commerce Times. "SMBs are looking over the entire portfolio of IT and telecom projects that they want toimplement and are opting for those that can deliver identifiable ROI in the shortest period of time."
UC projects are at the top of that category, Aggarwal said.
VoIP (Voice over Internet Protocol) was a clear favorite, he added, because it can show an ROI within six months.
SMBs are rolling out UC projects out on a piecemeal basis rather than making a full-fledged multi-year commitment, said Aggarwal, which is a reflection of economic conditions.
However, "they are looking at segments that can reduce costs and increase efficiency," he noted.Other areas include unified messaging and integration with mobile solutions, as well as anything that reduces the cost of conferencing solutions.
Process Automation?
In the long run, SMBs will be able to leverage UC advancements in areas that are not currently on most firms' radar, Donald E. Brown, founder and CEO of Interactive Intelligence, told the E-Commerce Times in an interview earlier this year.
In fact, this next wave of innovation — mainly in the area of process automation — may resonate more with SMBs than the first iteration of the UC business model has.
"The first selling point for UC was the vague notion of making people more productive. Using UC, if you and I work in the same office, I can see if you are available to speak or in a meeting. So it saves you time in making a phone call that might not get answered. That is nice, and it does have value, but what our industry is starting to realize is we can do a lot more for customers than focusing on personal productivity.
Process automation — applied to any business process — will be the next area to meet up with UC, according to Brown.
Insurance companies, for instance, have to continually process applications during their day-to-day operations, he noted. Routing technology can be used to send an application to an underwriter in the appropriate state.
"One of the exciting things we are waking up to is the fact we can use the same technology for routing customer interactions to queue up paperwork," Brown commented. "It takes work that is unstructured and involves a lot of paper, and then imposes a structure on it."
The next wave of UC development is going to begin sometime this year, Brown predicted, as the industry starts to "evolve our software to think more broadly to route around work."
At least one or two big vendors will roll out such offerings this year, he said — and those plays will be aimed straight at the small and middle market. "These companies do not have the money to buyhigh-end process automation tools, and yet they have a huge demand for process automation."