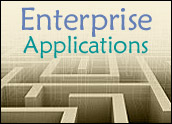 CA has released a suite of Enterprise IT Management (EITM) software tools that it's calling the next "killer app" for virtualization.
The first phase in the nascent industry — server consolidation — is well underway; the next big trend, according to CA, is the comprehensive management of virtual systems.
"We have been working on managing virtual machines for many of our products already," Stephen Elliot, CA's vice president of strategy for its infrastructure management and data center automation business unit, told TechNewsWorld.
The new suite bundles previously released applications with new tools for support and management of both physical and virtual infrastructures.
"Not every application should be virtualized," Elliot noted. CA is adopting what he terms a "service management" or "best management" approach — that is, helping companies weigh which services are to be deployed in the cloud. Issues to consider range from storage to business continuity to performance management to security.
Application Highlights
Some of the CA offerings included in the new suite:
CA Data Center Automation Manager, which integrates and automates virtual and physical server provisioning cycles by allocating resources in real time based on business policies. Through integration with CA Workload Automation, it allows systems to extend to virtualized environments to handle planned and unplanned workload and transaction bursts. It also maintains configuration consistency in virtual environments by using autonomic policies that track and remediate configuration drift from development through production.
CA Service Desk Manager, which governs approval of data center automation policies.
CA Wily Application Performance Management, which monitors application performance across both physical and virtual infrastructures; when integrated with CA Data Center Automation Manager, it can trigger provisioning of additional virtualized resource pools.
CA Advanced Systems Management, which monitors the performance of virtual server resources across virtual and physical platforms.
CA IT Client Manager, which performs hardware and software inventory of virtual systems and updates them with new software and security patches.
CA XOsoft High Availability, which offers failover and failback capabilities for virtualized servers and applications.
CA ARCserve Backup, which offers enterprise-class data protection across multiple hardware and software platforms, including virtual machines.
CA eHealth Network Performance Manager and CA Spectrum Network Fault Manager — CA's network management applications architected for virtualized network resources. This will allow users to manage virtual and physical networks from a single pane of glass.
CA VM Manager Management Suite for Mainframe Linux, which is designed for Linux shops to manage and secure z/VM systems that support Linux for System z by managing guest systems and enabling provisioning. It includes applications for automated operations, service level management, backup and recovery, storage management and security management.
Paradigm Shift
CA is leveraging the fact that the existing approach to systems management is an overprovisioned model, Matt Shanahan, senior vice president with AdmitOne Security, told TechNewsWorld.
"It requires too much manpower to efficiently provision data software and controls for many organizations," he said.
Moving certain functions and applications to the cloud requires a paradigm shift, Shanahan continued, and a management app can play a supporting role.
Consider security, he said, which benefits from a cloud environment because it automates many of the steps, such as requiring a user to sign in with a digital certification.
"Even in a virtualized security environment, a company still has to go through the same paradigm shift," he explained, "because cloud computing will affect each portion of its architecture and how it is implemented."