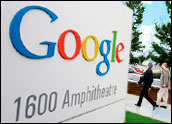 Google has acquired Bump Technologies, a company that has developedan application that transforms a computer desktop screen into a 3-D display.
The app — called "BumpTop" — is compatible with multitouch display technology, a feature found on devices like Apple's iPad and iPhone.
That multitouch functionality has led to widespread speculation that Google hasacquired the company in order to build an operating system that canbetter compete with — or even exceed — the functionality of Apple's iPhone OS, which is also found on the iPad.
Little else is known about the acquisition, other than itsacknowledgement by Bump Technologies on its homepage.
Setting Course for Apple
Google and Apple have in the past acted as close collaborators. For example, the original iPhone launched with several Google-backed applications built-in. Now, however, that relationship appears to be much more competitive; rivalries between the two companies are developing in areas like mobile devices, computer operating systems, and even advertising.
Google's problem in competing with Apple has never been itsfunctionality, Evan Bailyn, founder of First Page Sage, told theE-Commerce Times. "In that respect, it is quite strong. What it's neverhad, though, is sex appeal." The Bump Technologies acquisition, hesaid, will give Google that.
"It will give it, finally, something sexy in terms of a user interfaceto put on top of its OS," he explained.
Perhaps more to the point, it can be used to significantly enhance anyoperating system, Rob Enderle of the Enderle Group told the E-CommerceTimes. "BumpTop is an advanced UI (user interface), which is designed to significantlyenhance Windows," he said.
However, Google's ChromeOS is still in its early stages and could likely usethis user interface to speed time to market, he continued.
"The BumpTop product, as it is, could be marketed as a Windowsimprovement tool and could perform the roll of Trojan Horse, reducingthe perceived switching cost from Windows PCs running BumpTop and theChromeOS and allowing the new OS to ramp more quickly," he said.
There is also sex appeal to the application, he acknowledged. "3-D in aninterface significantly increases the visible real estate you areworking with, and when done right like BumpTopdid, it looks stunning, driving people to share and brag about theirdesktop, building demand.
"Handled properly, Bump-Top could be a strong tool to help Google growshare rapidly as they ramp their products to market," he concluded.
Too Much Data
Besides helping Google compete with Apple, the acquisition will alsosolve a problem that is beginning to impact all online firms, said RonBurns, CEO of ProtonMedia, a company that develops 3-D platforms forcollaboration.
"What Google is trying to do is develop a better interface for itsnext-generation OS that can help users absorb and understand the hugeamount of data that we are compiling," he told the E-Commerce Times.
"Right now we have so much data that it is becoming easier tovisualize it all with 3-D," he added.