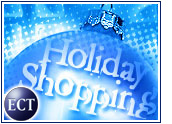 While the overall consumer e-commerce market remains sluggish, pure-play online pharmacy Drugstore.com (Nasdaq: DSCM) said Tuesday it is ringing up record sales this holiday season.
The company said that it has racked up three consecutive weeks of record revenues, and sales in that time period are running more than 30 percent higher this year compared to the 2000 holiday.
Drugstore.com also said it was on track to meet its revenue guidance of US$40 million to $41 million for the fourth quarter, compared to $32 million in revenues in the fourth quarter of 2000.
Even with the rosy revenue forecast, the company did not comment on its projected financial shortfall for the quarter. In October, Drugstore.com said it expected to suffer a net loss of $19 million.
Big Gainer
For several weeks running, Drugstore.com has appeared as one of the fastest-gaining online commerce sites in terms of shopping traffic, according to a weekly tracking report by Jupiter Media Metrix.
For the week ending December 14th, Drugstore.com ranked as the 11th busiest shopping site on the Web and had seen the number of shopping visits jump 228 percent over the same period last year.
Drugstore.com president and chief executive officer Kal Raman said the traffic is translating to higher sales, which he attributed in part to a commitment to customer service. Raman said most non-pharmaceutical orders have been shipping within 24 hours, despite the increased traffic and sales volumes.
"We are proud of our accomplishments and are pleased to reaffirm our Q4 guidance," Raman said.
Staying Pure
Drugstore.com is unique because Raman has vowed the company will remain a pure-play e-tailer, despite a trend among Internet-only merchants to find real-world partners. The Bellevue, Washington-based e-tailer has set a fairly distant target date to become profitable: sometime in 2004.
The company, whose financial backers include Amazon.com (Nasdaq: AMZN), has seen its stock price slowly regain some of the losses it suffered dating back to last year, when it nose-dived from $70 per share to less than 50 cents. The stock closed Tuesday at $1.78, the highest it has been since February.
Murky Backdrop
The strong gains come against an increasingly murky backdrop for the e-commerce as a whole this holiday. Forrester Research said Monday that U.S. sales for November came in at just under $5 billion, a figure well below 2000 levels, and one that may force the research firm to lower its forecast of $11 billion in online shopping revenues this holiday season.
That assessment raises the possibility that e-commerce would have to settle for single-digit growth at best over 2000 holiday spending levels.