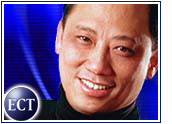 BroadVision (Nasdaq: BVSN) picked up 73 U.S. cents to $6.24 in morning trading Monday, after the e-commerce software maker said that retail giant Wal-Mart Stores will use BroadVisionsoftware to power its Web sites.
Terms of the global licensing agreement were not disclosed. Wal-Mart, already a BroadVision customer, will use the company's technology to boost existing sites, including Sam's Club and ASDA, as well as new online initiatives like an employee portal scheduled to go live by midyear.
"We chose to standardize on BroadVision because of the applications' proven scalability and reliability," Wal-Mart chief information officer Kevin Turner said. "It was important for us as a company to select a vendor who has proven they can offer world-class support and reliability."
BroadVision president and chief executive officer Pehong Chen said that the Wal-Mart agreement is the kind of thing the company would like to reach with more of its customers.
"These are exactly the kind of efficiencies we offer to customers who use BroadVision applications for a wide variety of e-business initiatives across their enterprises," said Chen.
Earlier this month, BroadVision reported a loss for the first quarter ended March 31st, even as revenue rose from a year earlier. Chen said at the time the results reflected "economic uncertainties," which caused customers to delay purchases near the end of the quarter.
"Although revenues grew significantly, we closed fewer transactions than anticipated," said Chen.
The software maker has also announced plans to lay off workers and cut costs further to deal with a drop in demand for its products brought on by a slumping economy.