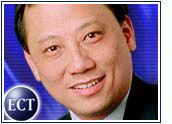 BroadVision(Nasdaq: BVSN) fell 8 U.S. cents to $5.13in morning trading Wednesday, after reporting first-quarter results that,while in line with the company's lowered expectations, were belowyear-earlier levels.
The e-business software maker also reportedly announcedplans to eliminate jobs. Reports said that BroadVision plans to cut a total of 500jobs, rather than the 325 previously planned.
BroadVision said that revenue for the first quarter ended March 31st rose to$91.1 million from $61.5 million in the year-earlier quarter. However, thecompany posted a pro forma loss of $38.9 million, or 14 cents per share,compared with income of $10 million, or 4 cents per share.
President and chief executive officer Pehong Chen said that the results reflect"economic uncertainties," which caused customers to delay purchases near theend of the quarter.
"Although revenues grew significantly, we closed fewertransactions than anticipated," said Chen.
Earlier this month, BroadVision said it would cut 15 percent of itsworkforce, as part of a reorganization designed to return the company toprofitability by the end of the year.
The plan also includes a "realignment"of operations and "aggressive containment" of discretionary spending, thecompany said Wednesday.
"We will continue to invest in our technology and in our commitment tocustomers, which will drive our future growth," said Chen. "Longer term, we remain confident that we are wellpositioned competitively."
In his comments, Chen cited both BroadVision's "technology leadership" and its suite of e-business software applications.
BroadVision said it expects revenue for the year as a whole to total between $360million and $410 million, below the $439 million reportedly forecast byanalysts. There will be a second-quarter charge of $30 million to $50million to cover the restructuring, the company said.