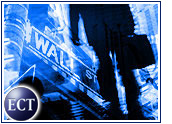 Broadbase Software (Nasdaq: BBSW) slid84 U.S. cents to 78 cents in morning trading Wednesday — a 51.9 percent tumble — after the company, whichmakes e-commerce software, said it will report a bigger first-quarter lossthan previously expected because of a weak economy.
The Menlo Park, California-based company also said that its chief financialofficer, Rusty Thomas, is leaving the company. Brian Moore, senior vice president ofworldwide operations, will serve as interim CFO, the company said. Broadbase did not give a reason for Thomas' departure.
Broadbase said that it expects a loss of about 23 cents per share for the quarterended March 31st, excluding amortization of stock-based compensation andacquisition-related costs, compared with a loss of 14 cents in the samequarter a year earlier. Revenue likely totaled $13 million, up from $6.3 million in the year-earlier quarter.
"The slowing economy and the challenging business climate in North Americaare the primary causes" of the shortfall, said president and chief executiveofficer Chuck Bay.
"In response to our lower-than-anticipated results for the quarter, we arein the process of revising our operating plan for the remainder of 2001 andintend to provide investors with new guidance as soon as this process iscomplete," Bay said.
With about $130 million in cash and short-term investments as of March 31st,said Bay, "we enter into the second quarter with a solid balance sheet, aninstalled base of high-quality, blue-chip customers, a growing network ofpartners, and a high level of pipeline activity."
Broadbase makes marketing automation and customer interaction software forcompanies including Cisco Systems, ADP, Hewlett-Packard and Palm Computing.The company has offices in North America, Europe and Asia.