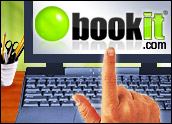 Clutter, clutter, clutter — will they never learn? Well into our survey of travel-planning Web sites, a common design theme continues to predominate: a crowded user interface that detracts from the supposed utilitarian purpose of the site.
Bookit.com is no exception, although it is not as bad as some. I recently gave it a test run.
The field to input flight or travel information was small and located to the left. An encouraging little white tagline appeared at the top: "You know what to do." Yes, indeed I did, once I found it.
As I continued to examine the site, though, a few other features jumped out of the busy display, dispelling my initial, admittedly less-than-dazzled impression.
My Extreme Booking Challenge
To the right was a feature called "Best of Bookit.com," which was automatically customized for the D.C. area, where I live. Curious, I clicked through and was intrigued to see that one could input nearby airports to compare fares.
Make that very intrigued.
There are three major airports in the Washington, D.C., area that I could feasibly use. I have always wondered how much of a price difference it would make, to fly out of, say, Reagan National Airport, which is located in the middle of a close-in Virginia suburb — so close, in fact, that passengers can sometimes see into office buildings — versus Baltimore Washington International in Maryland or Dulles International Airport in Virginia.
For years, I've been flying out of BWI, based on its proximity to my home plus the hazily acquired notion that flights out of Reagan are more expensive because of the landing fees. Whatever those are.
Also intriguing: A house ad at the bottom of the page touted Bookit.com's patent-pending pricing methodology, FROM Technology. In addition to finding the best prices, it promised to show ALL package deals FROM my nearest major airport, with up to two more airports for comparison.
Them's fighting words, and I decided to give Bookit my extreme travel test: I wanted to fly out of Washington on the Wednesday before Thanksgiving and return the following Sunday.
The Bad and the Good
There's good news and bad news about the results.
The good news is that Bookit.com came up with a US$379 ticket from Reagan National to New Orleans (yes, I've been guessing wrong all these years, but not by much — more on that in a minute) even though Thanksgiving was just six weeks away. Due to past years' procrastination, I can attest that was a good price.
The bad news is that as far as I could tell, the competing airports comparison tool did not apply to standard flight requests — only to packaged vacations.
I didn't immediately grasp this and, frustrated, called the site's 888 number. Customer service rep Adrian answered almost immediately, after I went through the standard prompts. Sympathetic, he offered to search competing airports for the best deal and found the $379 flight. When I returned to the Bookit.com field, I found a slightly higher-priced flight from BWI for $387.90.
It's too bad the comparison tool was not available for standard flights, because it can be a real eye-opener.
Cruising for a Vacation
One of the fields on the front page was Bookit.com's top 20 package deals. I clicked on the all-inclusive resort Ocean Coral and Turquesa in Puerto Morelos, Riviera Maya, Mexico. With departure from BWI, the package would cost $359 per person for a three-night stay, for a total of $1,077. From Reagan, the same package would cost me $599 per night ($1,797); from Dulles, $619 ($1,857).
I decided to go for it. There was a processing delay — but the site helpfully informed me while I waited: It was compiling alternative airports, then loading all the fares and fees, and so on).
Bait and Switch
The results were mixed. Yes, I could go to the Mexican Riviera for $359 a night from BWI — but only if I were to fly out on Oct. 24 or Oct. 31. As it turned out, the prices varied — dramatically — according to dates. While I surely wasn't expecting a $359 package deal for Thanksgiving weekend, I did expect a little more uniformity. Did I want to leave on Oct. 30? It would cost me $559 per night instead. On Nov. 21, I'd have to pay $619.
That's the bait-and-switch routine typical of advertised deals on many of these travel-planning sites, of course — and, yes, the $359 price was accompanied by a neon green asterisk, so it didn't come as a shock.
On Bookit.com, though, this particular feature was set up in a calendar format to show the package price for each date — an improvement over many other sites. It makes it easier to find the best-priced deal that suits your schedule.
If I had booked the package out of BWI on Oct. 24, the final price would have come close to the $1,077 for three nights that was initially advertised. The total — $1,227.40 — included $105.40 in airport fees and $45 for transportation from the airport to the resort, which Bookit thoughtfully incorporated into my bill (opt out was available).
Bottom line for Bookit.com: If you're shopping for the best price for a vacation package, and you don't have your heart set on any particular destination or date, it is an excellent site.
Also, kudos for its wonderful customer service.