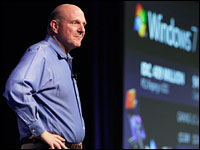 The board of directors at Microsoft did not award company CEO Steve Ballmer and other executives their full bonuses this year following lower-than-expected Windows sales and a failure to comply with European regulations.
A proxy statement filed with the Securities and Exchange Commission revealed that Ballmer received 91 percent of his base salary in bonus pay, totaling US$620,000. Including salary, his total compensation for Microsoft's fiscal year 2012 is $1.32 million, compared to a total $1.38 million last year, when he received a $682,500 bonus. He is eligible for up to 200 percent of base pay as a bonus.
Microsoft takes employee self-evaluation, performance reviews from the board of directors and other quantitative and qualitative financial, operational and strategic assessments into account when calculating executive bonuses.
Drop in Revenue
This year, in the case of Ballmer, the board cited a decline in revenue in the Windows division as a reason for his lowered bonus pay. It also noted progress that was slower than expected in its Online Services division, only "modest" growth of Windows Phone's market share, and a failure to comply with a 2009 agreement with the European Commission over choices with Internet browsers on certain Windows PCs.
The board also recognized positive aspects of Ballmer's past year, including an "overall solid business performance" leading to a 17 percent increase in cash flow and success in overseeing the completion of Windows 8.
The slow Windows sales and European disputes were noted in the board's evaluation of Windows division president Steven Sinofsky as well. For 2012, Sinofsky received a base salary of $658,333, plus a bonus of $1.5 million in cash and $6.4 million in stock.
Executives other than Ballmer are paid their bonuses from an incentive pool that represents a percentage of Microsoft's annual revenues. Sinofsky's bonus, like that of other executives, is paid out 80 percent in stock and 20 percent in cash. Ballmer's bonuses are paid entirely in cash.
Microsoft did not respond to our request for further details.
Firing Up Ballmer
It's not uncommon for boards of directors to hope to send a message to employees encouraging them to go above and beyond their current performance, said Charles Elson, director of the Center for Corporate Governance at the University of Delaware.
"A bonus is pure incentive," Elson told the E-Commerce Times. "A salary gets paid regardless of what happens within the company, but a bonus is tied to great performance. If you've taken actions that don't measure up, you don't get paid a bonus. That's what it's all about."
Although it's a typical way for a board to incentivize executives, it's not a proven foolproof method of whipping a company leader into shape, he pointed out.
"It depends on the CEO," said Elson. "This is not going to affect Steve Ballmer's lifestyle at all, so it's really more symbolic. All he has to do is have a better year next year, it's as simple as that. Sometimes symbolism is a good thing."
Incentivizing Innovation
That symbolism differs from company to company, and is especially different at Microsoft because of its executives' stock holdings. Ballmer holds a significant chunk of Microsoft's shares, worth more than $10 billion. He only receives cash as a bonus, unlike other executives. While there is an argument to be made that executives with so much stock in the company are more invested in its well-being, it can also create an innovation-free company, said William Lazonick, director of the Center for Industrial Competitiveness at the University of Massachusetts Lowell.
"Top executives who do massive stock buybacks are not doing their jobs. They are more concerned with keeping up the company's stock price than investing in the future of the company," Lazonick told the E-Commerce Times. "Of course, if a company has as much cash as Microsoft, it can do both. But I argue the fact that Microsoft threw away billions on stock repurchases is one reason why the company has failed to be a technology leader."
A lack of innovation is exactly why the company has struggled to remain a dominant force in the tech industry as rivals Apple and Google continue to thrive, said Trip Chowdhry, senior analyst for Global Equities Research.
By shrinking bonuses this year, the board is sending the message that something has got to be done to spark innovation within the company, he told the E-Commerce Times.
"This indicates that there is zero innovation in Microsoft," Chowdhry said. "They can't create industries and they can't create products, and some of these executives are perpetually living in the last decade. Not giving a bonus might be a wake-up call, but it doesn't address any problems. The next step might be getting some fresh faces in there that can deliver on innovation."