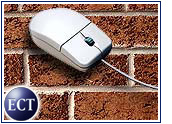 Capping a week of restructuring initiatives, BlueLight.com said Thursday that chief executive officer Mark H. Goldstein has stepped down from his post at the online affiliate of retail giant Kmart.
"The next chapter for BlueLight is about further optimizing Kmart economics, not focusing on independent innovation," said Goldstein, who helped launch the retail giant's online brand in December 1999. "As an entrepreneur at heart, I am moving forward to allow someone most skilled in the area to assume the leadership position."
The announcement came one day after BlueLight said it was trimming its staff and shifting many of its merchandising and marketing functions to majority investor Kmart. On Tuesday, it was reported that Kmart was engaged in talks to purchase the 40 percent of BlueLight it does not already own.
According to BlueLight, Goldstein will now assume the role of "long-term Internet advisor" for Kmart. San Francisco, California-based BlueLight did not specify whether another executive had been chosen to fill the CEO position.
Building Blocks
Saying that he "couldn't be more pleased" with the job Goldstein had done, BlueLight chairman of the board Randy Allen lauded the former CEO for garnering enough financial support to grow the startup into a solid business and establish Kmart's "credibility" on the Internet.
Despite entering the e-commerce arena later than some of its competitors, BlueLight managed to leverage Kmart's mass recognition to become a well-known Internet vendor under Goldstein's watch.
Heavy Traffic
In December, Jupiter Media Metrix called the company one of the fastest growing online properties. A separate report issued by Nielsen//NetRatings at the same time also found that BlueLight ranked among the top 15 sites in terms of traffic during the holiday season.
More recently, BlueLight said it moved into second place behind Sears.com among the most trafficked mass merchandisers.
Luring Customers
In addition to luring consumers from advertisements in Kmart circulars, BlueLight acquired customers by offering free Internet access. The move was intended to lock users into spending more time at the e-tail site. Shoppers who purchase any item at BlueLight are given one month of free premium access.
In March, however, the company instituted a fee-based plan for consumers who use more than 12 hours per month, charging US$9.95 for 100 hours of service.
In its announcement Wednesday that it would rely more heavily on Kmart's resources, BlueLight said it was hoping the strategic actions would improve the e-tailer's overall efficiencies and speed its goal of running in the black.